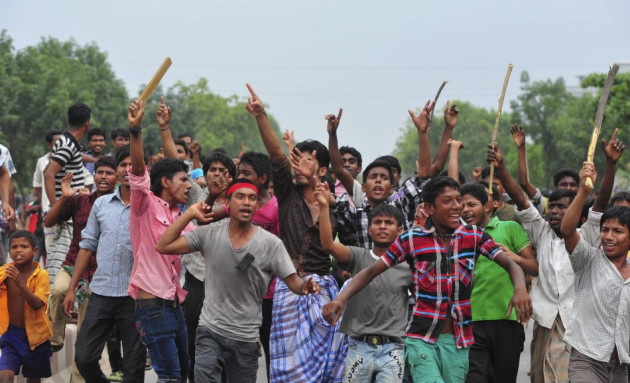 The building collapse in Bangladesh, which has so far claimed more than 350 workers, has triggered fresh protests across the country.
There is no let up in the protests despite police arresting two owners and two engineers who were allegedly involved in the poor construction of the building.
Security personnel have been struggling to control angry mobs which have been pelting stones and setting vehicles ablaze.
In Savar, where the tragic incident took place, protesters continue to clash with security personnel. Widespread protests have also been reported in the capital Dhaka and in Chittaggong where hundreds of workers took to the streets.
Prime Minister Sheikh Hasina has assured that those responsible for the tragedy will be held accountable.
Many garment factories across Bangladesh have been shut down fearing violence.
Meanwhile, rescue workers are continuing their search for more survivors as they suspect that hundreds of victims are still buried under the rubble. After hectic efforts, 29 people were pulled out on Saturday.
Reports suggest the death toll could be heading towards 400. Even more than 80 hours after the collapse, several people are still unaccounted for.
"There are many dead bodies but our top priority is finding those who may still be alive. There are some survivors. We can hear their feeble cries or hear them talking to each other," the chief of the rescue operation, Mahbubur Rahman, told AFP.
Rescuers are digging tunnels with their hands fearing that using heavy equipment will cause further collapse.
"Pillars and beams are the biggest problem. Sometimes, even if we can locate survivors, we can't reach them because of these beams. They take a lot of time to cut through," said Rahman.
Although there is no official figure, local reports suggest more than 2,600 people have been rescued so far.
"We are conducting the rescue operation by digging holes in different floors of the collapsed building. During the rescue drive, I saw many bodies lying trapped under concrete chunks," a rescuer involved in the operation named Refatullah told the Daily Sun.