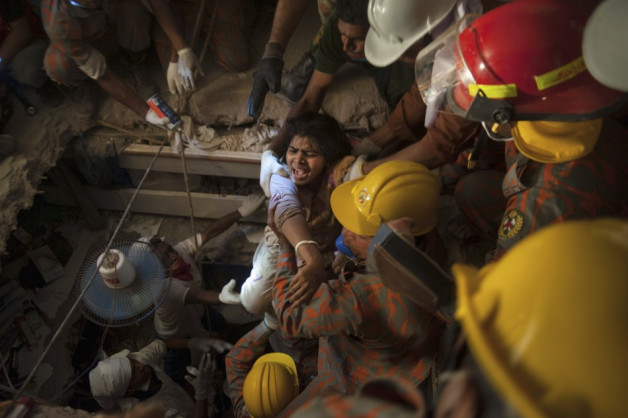 Rescuers are racing against the clock to pull nine survivors from the ruins of the collapsed Bangladeshi factory, as an account emerged of a woman who gave birth while trapped in the rubble.
Authorities said that they had located a small pocket of people still alive amidst the twisted wreckage in the capital Dhaka five days after the eight-storey building collapsed, killing 353.
With the smell of decomposing bodies is making conditions difficult for rescue workers, two more survivors were pulled from the ruins of Rana Plaza this morning, and food and water dropped through gaps to those still alive.
Hundreds of workers are still unaccounted for, and authorities said they were postponing the use of heavy lifting and drilling equipment scheduled for today to avoid a further collapse of rubble that could harm the survivors.
As efforts continued, one rescuer told the Telegraph the incredible story of a woman who gave birth to a child while trapped under concrete and metal pillars.
"The lady who gave birth to a baby boy was rescued on Wednesday after six hours," rescuer Didar Hossain said. "She gave birth while inside the building. She was about 26 or 27 years old. When we found her, she said, 'Please save my baby first'."
The woman suffered no serious injuries and was later reunited with her family.
"The baby was crying," he added. "The umbilical chord was still there. After bringing them out we placed the baby in a cloth. There were other women around who took the responsibility to cut the umbilical chord."
Other stories emerged of the nightmarish conditions endured by others who had been trapped, with temperatures reaching 95F (35C).
One of the 40 people rescued on Saturday, Merina Begum, told AFP: "When the rescuers brought juice, ice cream and cold water, it was the tastiest food I've ever had."
The fire service's head of operations, Mahbubur Rahman, said it was becoming more difficult to locate survivors as they were increasingly too weak to call for help.
"There are many dead bodies but our top priority is finding those who may still be alive," he told AFP news agency. "There are some survivors. We can hear their feeble cries or hear them talking to each other," he added.
Yesterday the owners of the New Wave factory based in the Rana Plaza building, were arrested along with two civil engineers who allegedly signed the building off as safe the day before it collapsed.
Police claim they ordered the evacuation of people from the building on Tuesday when cracks began to appear, but factory owners, Mahbubur Rahman Tapas and Balzul Samad Adnan, opened for business as usual on Wednesday.
The owner of the Rana Plaza Building, Mohammed Sohel Rana, was also arrested.