The Rana Plaza disaster that killed 1,135 in Bangladesh focused global attention on problems in the nation's clothing industry, forcing multinationals sourcing from local factories to ensure workers a basic level of health and safety at work, but human right abuses are still committed everyday, and they especially affect women, activists said.
Despite employing up to 4 million workers and providing women with job opportunities, Bangladesh still competes on cheap labour, meaning that the clothing industry, which supplies 84% of the nation's exports, has deep structural issues.
"Efforts have been made to improve the conditions, but there isn't that much of a progress," Lila Caballero, who co-authored the Diversity and Conquer report with Kazi Haque for ActionAid, exclusively told IBTimes UK.
After the Rana Plaza catastrophe in the capital Dhaka in April 2013, a group of brands and unions signed the Accord on Fire and Building Safety in Bangladesh, which outlined that more supervisions and audits should take place in the factories to check that conditions had improved. Despite the agreement, reviews in October last year identified more than 80,000 safety issues.
Additionally, the minimum wage was increased to $68 - a figure Caballero said is far from the minimum living wage, calculated at $69 for a family with one child living in Dhaka.
Garment workers in the capital's Mirpur area confirmed that, while the minimum wage they are receiving has gone up, factory owners are often funding the rise by cutting the number of helpers on the factory floor and imposing longer hours.
In one of the factories, workers said there used to be a helper for every 10 or 12 machine operators, but after the wage increase, helpers were cut. Machine operators now have to do their work plus what the helper used to do.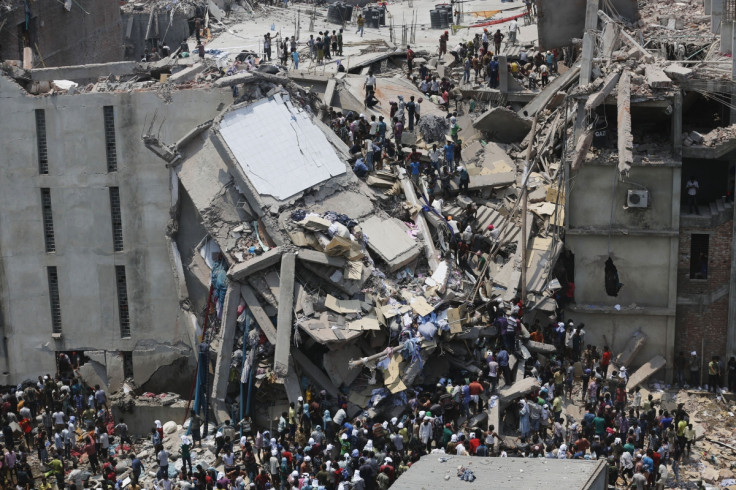 Woman and girls still at risk of abuses
The garment industry is seen as one that creates jobs for women, but it replicates societal discrimination against women, who are typically less paid than men and work longer hours. According to ActionAid's report, jobs are also becoming scarce and employers are increasingly hiring on the basis of age and physical appearance.
Lots of factories still don't allow workers regular breaks or provide safe drinking water, separate toilets and owners argue that they can't provide childcare facilities because they "cost too much and distract workers", ActionAid found.
After signing the Accord on Fire and Building Safety, factories agreed to provide canteens for their workers, but women interviewed in focus groups claim that, because of the lack of space, they only eat sitting on rooftops or stairs.
Another issue Caballero highlighted is that women and girls are at risk of sexual violence when they commute to and from the factories. "When they leave late at night because they work longer hours, it is not safe, and so they put themselves in danger," Caballero said.
Shameena, founder of a Dhaka labour rights organisation - the Sadhin Bangla Garments Labour-Workers Federation - explained that, when she worked in a factory as a quality inspector, female workers were advised not to raise claims of sexual harassment. Indeed, she recalled how the factory owners would use the argument that if the claim got out, the factory would shut and the victim and fellow workers would lose their jobs.
Caballero explained: "Not only do they get fired, but they are also named and shamed, with their pictures getting shared on social media, which really reduces the women's prospects of a job, because there aren't that many sectors available or able to offer those volumes of jobs for the population."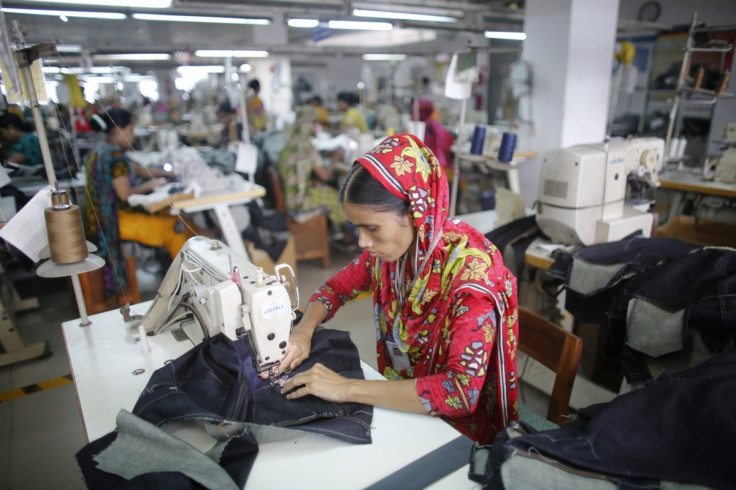 Looking towards technology for success
The pressure on clothing workers not to complain about poor conditions is successful partly because they do not have alternative employment options.
Competition from other garment exporters means that wages need to stay low so that suppliers in Bangladesh can provide garments at competitive prices, so Bangladesh is stuck in a low value-added segment of the global value chain, as low profits and even lower wages characterise the industry.
"Of course, when buyers in the UK and elsewhere in Europe put pressure on these suppliers to produce more cheaply, the only cost that these Bangladeshi suppliers can cut is wages. This is unsustainable in the long term and if Bangladesh really wants to develop socially and economically, it needs to move beyond garments," Caballero added.
How big is the clothing sector in Bangladesh?
- Bangladesh halved extreme poverty in the last two decades and created jobs via the development of its garments sector
- Garments account for 84% of the country's export earnings and contribute more than 10% of GDP.
- Those exports were worth more than $24bn in 2013-2014 and employed 4 million workers in 4,536 according to Human Rights Watch
According to the campaign group, the nation should learn from the successful industrialisation of countries like South Korea and Taiwan.
"The country needs to be able to invest in high-value added, technology-intensive sectors which can bring higher profits to the factory owners which can translate into higher wages for the workers, more tax income for the state to supply and increase access to public services," Caballero explained.
Many tools Bangladesh could use to devise an industrial policy, however, are prohibited under a number of the 34 investment and trade agreements it has signed in the past, such as the World Trade Organization law or the South Asian Free Trade area.
They are forbidden, for instance, to set out protectionist and tariff measures to create space to catch-up technology-wise and be more competitive against Chinese imports. "The government should stand up for its rights, contest these rules and maybe try and re-negotiate some of the trade agreements," Caballero said.