Campaigners Urge Retailers to Pay into $40m Rana Plaza Disaster Fund Ahead of Anniversary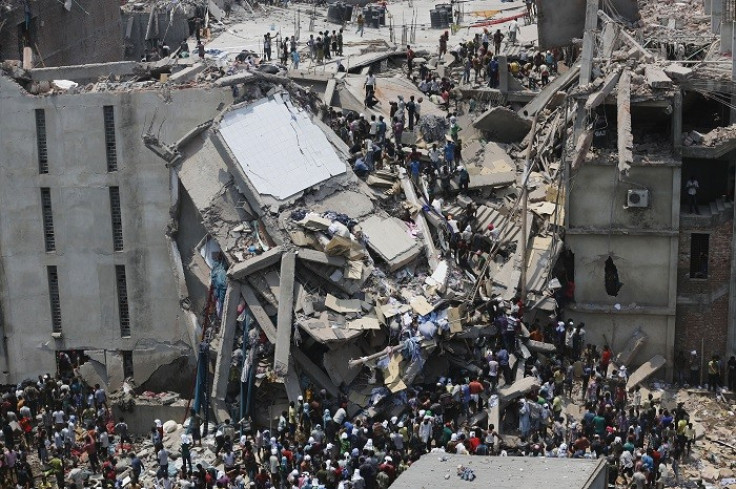 The global retailers linked to the Rana Plaza disaster in Bangladesh that killed more than 1,100 people were urged to pay into a compensation fund, as the tragic incident's anniversary is nearing.
Amsterdam-based Clean Clothes Campaign (CCC), a lobbying group for better conditions in the garment industry, launched a major campaign calling on all clothing brands who source from Bangladesh to immediately pay into the Rana Plaza Donors Trust Fund.
The fund was established to compensate the survivors and victims' families, and run by the International Labour Organisation (ILO).
The group called on major international brands Benetton, KiK and Children's Place, who were sourcing from factories in Rana Plaza at the time of the collapse or in the recent past, to make significant contributions to the fund. So far, clothing brands such as El Corte Ingles, Mascot, Mango, Inditex and Loblaw have publicly committed to donating to the fund.
About $40m (£24m, €29m) is required to ensure all those injured and the families of those killed are fairly compensated, the group said.
"Compensation efforts to date have been completely haphazard, unequal, unpredictable and non-transparent, and have left large groups of victims with nothing," said Ineke Zeldenrust of the CCC.
"The collapse of Rana Plaza is symptomatic of an industry wide problem, and we encourage the entire industry to make generous contributions."
Meanwhile, British group Trades Union Congress (TUC) said in a blog that a campaign was initiated for the cause of the victims of the disaster, with retailer Benetton as the first target. The campaign, run by CCC and global union federations IndustriALL and UNI, will target the 29 companies known to have sourced from Rana Plaza.
Some of the brands on the campaigner's list disagreed to contribute the fund as their production was outsourced to the factory without their knowledge or ended some time ago. Some others plan to pursue their own compensation schemes.
The harsh and unsafe working conditions in Bangladesh's garment factories that employ about 3.6 million people were tragically highlighted after the collapse of the eight-storey Rana Plaza building on 24 April 2013, killing more than 1,100 people.
In addition, the sector has suffered numerous fires, including a November 2012 blaze that killed 112 workers. Bangladesh is the world's second-largest garments exporter behind China.
Following the accidents, authorities in Bangladesh and clothing companies, especially in the US and Europe, have pledged to improve safety standards at the country's factories. Europe and the US account for 60% and 23% of clothes exports from Bangladesh, respectively.
© Copyright IBTimes 2023. All rights reserved.