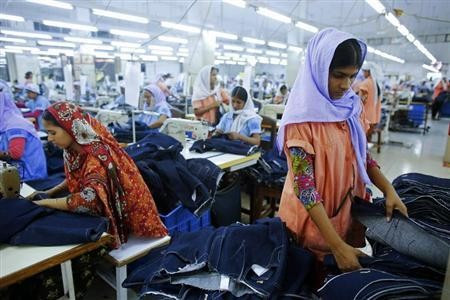 Global retailers are clearly shirking off the major factory disasters in Bangladesh and the concern over political turmoil after the country reported a 6% rise in exports for February 2014.
According to data from the country's Export Promotion Bureau, exports rose to $2.39bn (£1.4bn, €1.7bn), from the same month in the previous year, while in the first eight months of the financial year beginning 1 July, exports rose by 14% year-on-year.
"Orders are coming as the political situation has improved but the pace is slow," said Shahidullah Azim, vice president of the Bangladesh Garment Manufacturers & Exporters Association (BGMEA).
"We want a fair price from international buyers as production costs have gone up with a 77% rise in basis wages for workers and for extensive safety improvements."
Bangladesh's garment industry is worth $22bn and over 50% of exports go to European Union based retailers.
However, while political unrest led to a halving in orders for the three months to December, the uptick in exports may prove that the buyer concern was shortlived.
Meanwhile, global retailers joined forces with the Bangladesh government in December to set up an estimated $40m compensation fund to help the families of those who died when the Rana Plaza factory collapsed in April.
Four retailers – Primark, Bon Marché, El Corte Inglés and Loblaw – promised to contribute to the fund, which would dole out more than $25,000 each to the families of the dead.
In tandem, Bangladesh's official wage board approved a 77% rise in pay for the region's garment workers from December after the world's second largest clothing exporter was crippled by strikes and the Rana Plaza disaster.
The wage board will push up the monthly minimum wage for entry-level garment industry workers to 5,300 taka (£41.8, €50.1, $67.4), from 3,000 taka.
Over four million people, mostly women, work in Bangladesh's clothing sector and work for an average monthly salary of $38.
However, Indian workers at non-clothing factories earn an average of $100 per month.
In September this year, thousands of garment factory workers in Bangladesh protested over low wage rates, resulting in the closure of many factories.