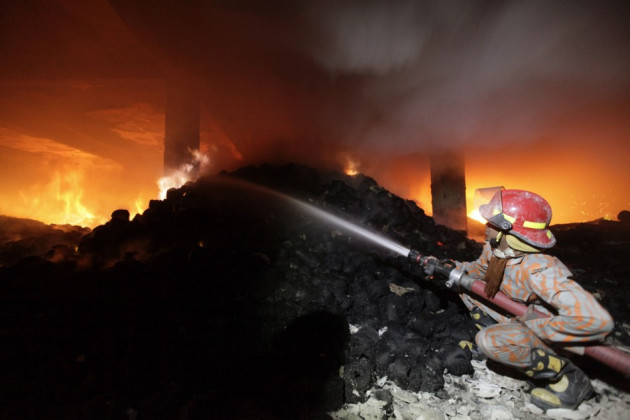 At least 120 people have died in a fire that engulfed a garment factory in the Ashulia district of the Bangladeshi capital, Dhaka.
By Sunday morning, firefighters had recovered more than 104 charred bodies from a nine-storey factory operated by Tazreen Fashions. The fire broke out overnight on the ground floor of the warehouse.
Several people sustained serious injuries when they jumped from the top floors of the building to escape the fire, and later died in hospital.
"We resumed our search this morning and found the bodies lying on different floors of the factory building," Brigadier General Abu Nayeem Mohammad Shahidullah of the Dhaka fire brigade told AFP.
The authorities have called in border security forces and army soldiers to help monitor the situation and co-ordinate rescue activities as people gathered to search for their relatives.
The exact number of missing people is not yet known, raising fears that more victims remain inside.
There are over 4,000 garment factories in Bangladesh, many of them producing goods for export to the United States and Europe. The sector employs over two million people.
However, lack of proper safety regulation and enforcement, overcrowding and dangerous electrical wiring cause several fatal fires every year.