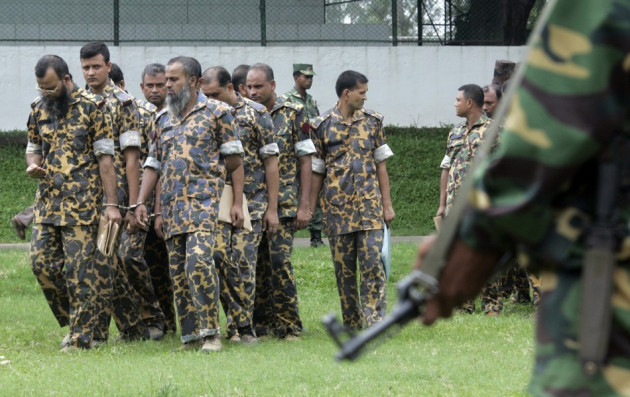 A Bangladeshi court has sentenced more than 150 soldiers to death over a 2009 mutiny that killed 74 people.
Dhaka's Metropolitan Sessions Court handed stiff prison sentences to several hundred others who participated in the two-day insurrection by paramilitary border guards against their commanders.
More than 800 people stood trial in connection to the mutiny. Presiding over a packed courtroom Judge Md Akhtaruzzaman handed 152 death sentences and 157 life sentences.
Another 207 accused were sentenced to up to 10 years in prison and 271 acquitted from all charges.
Lead prosecutor Baharul Islam described the case as the largest of its kind in history.
Human rights groups criticised the scale of sentencing, saying the accused would not be granted a fair trial and justice could not be ensured.
New York-based Human Rights Watch (HRW) said some of the accused were tortured or suffered from other abuse while in custody in order to extract confessions and statements.
Suspects also had limited access to lawyers or knowledge of the charges and evidence against them. At least 47 died behind bars, HRW said.
"Trying hundreds of people en masse in one giant courtroom, where the accused have little or no access to lawyers is an affront to international legal standards," said Brad Adams, Asia director at Human Rights Watch. Authorities have denied the allegations.
On February 25, 2009, the paramilitary Bangladesh border guards known as the Bangladesh Rifles (BDR) turned weapons against their leader at the corps annual event in Dhaka known as the BDR week.
Mutineers stormed the auditorium inside the BDR's headquarters, killed numerous high ranked officers, including the corps director general Shakil Ahmed, and many others were taken hostage.
The uprising spread from the capital across the country, with the rebellious guards putting a 22-point demand list including better wages and benefits and changes in the BDR's management roles and structure.
Rebels barricaded themselves inside the BDR headquarters and were soon surrounded by military troops backed by armoured vehicles.
The mutiny took place two months after Prime Minister Sheikh Hasina took office. Hasina offered an amnesty to end the two-day standoff and the mutineers eventually surrender. The offer was later rescinded as the bodies of dozens officers were found in sewers and in mass graves.
A total of 74 people were killed, including 57 military commanders.