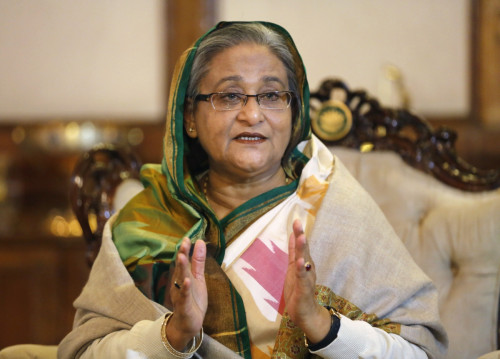 A special court in Bangladesh has sentenced 14 people, including the chief of the country's largest Islamist party, two former ministers and several high-ranking military officers, to death in a sensational arms smuggling case.
"The judge sentenced 14 people including Motiur Rahman Nizami, to death on smuggling charges," prosecutor Kamal Uddin Ahmed said, the Agence France-Presse reported.
The sentencing of Nizami, the top leader of the Islamist Jamaat party, and other senior functionaries in a Bangladesh Nationalist Party (BNP)-led government has come weeks after the ruling Awami League led by Sheikh Hasina returned to power in a controversial election boycotted by the opposition allies.
The 10-year-old arms smuggling case had its origin when Bangladeshi police captured 10 trucks laden with weapons and ammunition in the port city of Chittagong in April 2004.
The cache of ammunition, which was allegedly meant to be passed on to the Indian rebel group United Liberation Front of Assam (ULFA), had contained4,930 sophisticated firearms of different types, 840 rocket launchers, 300 rockets, 27,020 grenades, 2,000 grenade-launching tubes, 6,392 magazines and 11.41 million bullets, Bangladeshi newspaper the Daily Star reported.
Apart from Nizami, who was the industries minister in the BNP-led coalition government, the then minister of state for home, Lutfozzaman Babar, was also sentenced to the gallows by the special court in Chittagong.
Two of the 14 condemned to death, ULFA leader Paresh Barua and former additional secretary of industries ministry Nurul Amin are absconding and were sentenced in absentia.
Alert police personnel at the Chittagong Urea Fertiliser Limited (CUFL) jetty had foiled the smuggling plan on the night of 1 April, 2004, resulting in the biggest arms haul in the country's history and paving the way for the sentencing of several key players in the BNP coalition government.
Government agencies 'knew' about operation
The Daily Star reported an ULFA leader had told the police on the spot where the arms were seized that government agencies were aware of a plan to transit the weapons, packed in more than 1,570 wooden boxes.
"The goods [stuffed in the boxes] are arms and ammunition and all agencies of the government are aware of the arms," the operative of the Assamese separatist group banned by India, said, according to the paper.
The newspaper also said the arms were produced in the Chinese factory Norinco, and were being transported to the ULFA, which was fighting for creating a sovereign state in Assam.
"The arms, produced in the Chinese factory Norinco, were brought by ship to a place in the Bay of Bengal on the night of March 29," the report said.