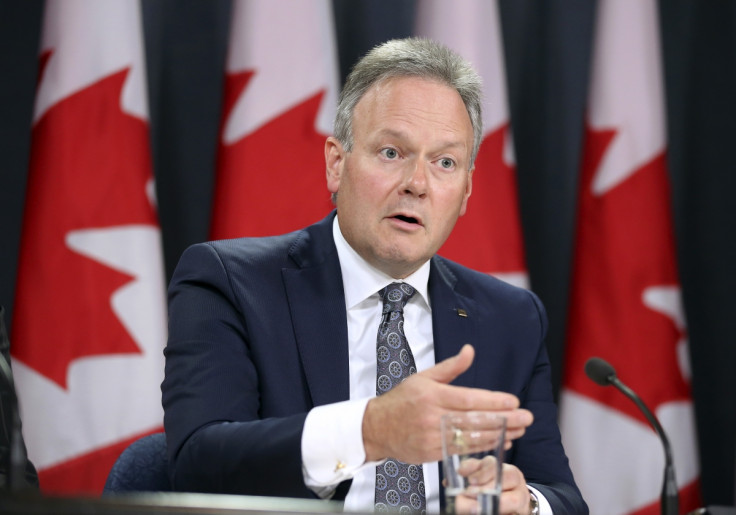 Bank of Canada on 21 October (Wednesday) decided not to cut its interest rates further despite lower growth forecasts for the next two years.
The central bank which had made two interest rate cuts in the year, one in January and the other in July, to hedge against the effects of lower oil and commodity prices, decided to hold its key overnight lending rate at 0.5%.
This is the rate that determines the interest at which money should be provided to big banks and private lenders who in turn determine the rate at which they can lend to their customers.
Bank of Canada Governor Stephen Poloz said that the two rate cuts made so far could take up to two years to work their way through the economy and that they had to wait patiently allowing the monetary policy to do its work.
Poloz added that lowering of the interest rates paired with the cheaper Canadian dollar was helping the non-energy businesses of the country in gaining steam. This is supported by another report which shows that exports of hundreds of items such as building products, aerospace and fabricated metal have grown at least 10% a year since the recession.
However, the China-slowdown, which led to a decline in commodity prices and the recent lower prices for oil, has negatively affected the investments and exports in the resources sector. This has prompted the central bank to downgrade the economic growth forecast by 0.3% to 2% for 2016 and by 0.1% to 2.5% for 2017.
The central bank which had earlier predicted that the economy will reach full capacity in the first half of 2017 has pushed this date to mid-2017 due to the slow economic growth. Core inflation excluding volatile elements including gasoline, fruit and vegetables will return to the 2% target in the third quarter of 2016. Canada's gross domestic product (GDP) has been lowered to 1.1% for 2015 from the earlier 2% by the central bank in July.
It said that while the global economy seemed weaker than expected for the year, it could pick up in 2016 and largely remain intact for 2017.
Justin Trudeau, the incoming prime minister, who won the elections on 19 October (Monday), has promised to boost the Canadian economy by introducing three years of deficit spending through a mix of infrastructure spending and tax cuts.