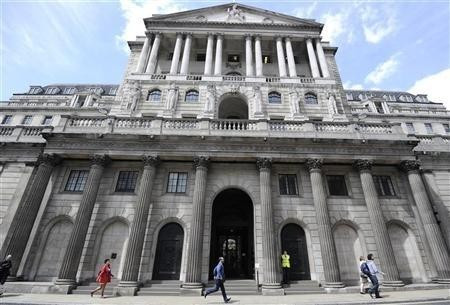 The Bank of England forecasted a better growth outlook for the UK economy and predicted a faster fall in inflation.
In the central bank's Quarterly Inflation Report, the BoE bucked the trend of its recent forecasts and gave no sign that it was on the verge of doing more stimulus, as the British economy fragilely recovers.
The BoE pegged a speedier fall in inflation than it previously predicted and said that the UK will likely hit the 2% inflation target in two years' time.
Inflation has exceeded the central bank's 2% target since December 2009.
"With inflation still high and spare capacity remaining, monetary policy continues to perform a difficult balancing act. Attempting to return inflation to target too rapidly will result in even slower growth and higher unemployment. That in turn would risk eroding the medium term supply capacity of the economy," said BoE governor Sir Mervyn King, who will be handing over the leadership reins to Mark Carney in July.
"But by allowing inflation to stay high for too long could cause households and businesses to begin to doubt the Monetary Policy Committee's commitment to meeting the inflation target thereby putting at risk medium term price stability.
"Monetary policy alone, however, cannot solve all our problems. There are limits to what can be achieved by general monetary stimulus in any form."
But the BoE initially spooked the markets in February this year, after predicting that inflation would not return to target, until the first quarter of 2016.
"Today's projections are for growth to be a little stronger and inflation a little weaker than we expected three months ago, that's the first time I've been able to say that since before the financial crisis," said King.
"But this is no time to be complacent we must press on to ensure a recovery and to bring down unemployment.
"This hasn't been a typical recession and it won't be a typical recovery. Nevertheless, a recovery is in sight."
Britain has been suffering its slowest economic recovery in decades.
The UK economy narrowly missed a triple-dip recession earlier this year, after growing by a meagre 0.3%, in the first three months of 2013 from the previous quarter.
Following the BoE report and King's comments, sterling rose to session highs, while gilts extended losses.
Sterling rose 0.3% to hit $1.5272 versus the US dollar.
Related Articles:
BoE's Sir Mervyn King: The Final Countdown to Inflation and Governorship
Mark Carney Profile: Incoming Bank of England Governor