A top Bank of England official is warning Britain that the housing market may be heading for yet another crash.
BoE policymakers have said for months that the housing market is in recovery mode and is not overheating. But they also claim to be alert to the risks of a bubble as house prices rocket amid cheaper mortgage credit and a constrained supply.
Now a deputy governor at the central bank has delivered a stark assessment of the housing market's prospects not long after Nationwide Building Society said in its monthly index that average house price has hit double-digits for the first time in four years.
"It would be dangerous to ignore the momentum that has built up in the UK housing market," said Sir Jon Cunliffe, who is responsible for financial stability at the BoE, in a City of London speech.
"This is a movie that has been seen more than once in the UK."
Nationwide said house prices grew by 10.9% on average in the year to April. This took the average price of a home to £183,577 and was the biggest annual rise since 2007 at the dawn of the financial crisis.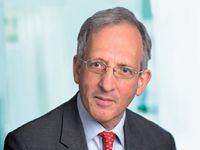 While Cunliffe said a "soft landing" is possible, he also warned that "a major overshoot in prices and build-up in debt followed by a sharp correction with negative equity and an overhang of debt for many households" is a very real scenario.
He said the BoE's Financial Policy Committee (FPC) should remain "vigilant" to the threat from the housing market and be reading to cool it off if needs be.
House prices are on the rise in all regions of the UK, but many are still below their pre-crisis peaks after the crash in 2008.
The revival in housing market demand has been driven by the strengthening economic recovery and an increasing availability of mortgage credit.
This is because of schemes to stimulate mortgage lending, such as Help to Buy, and abnormally low interest rates because the BoE has held its base rate at the all-time low of 0.5% for over five years.
Many fear that when the BoE hikes rates again it could spark a wave of defaults as mortgage repayments rise.
And in London and the south east of England house prices are rocketing ahead of elsewhere. In London, the Office for National Statistics (ONS) said the average price of a house hit £458,000 in February 2014 – an 18.1% leap over the year.
Many aspirant first-time buyers have been priced out as investors jostle to cash in on the London property market.