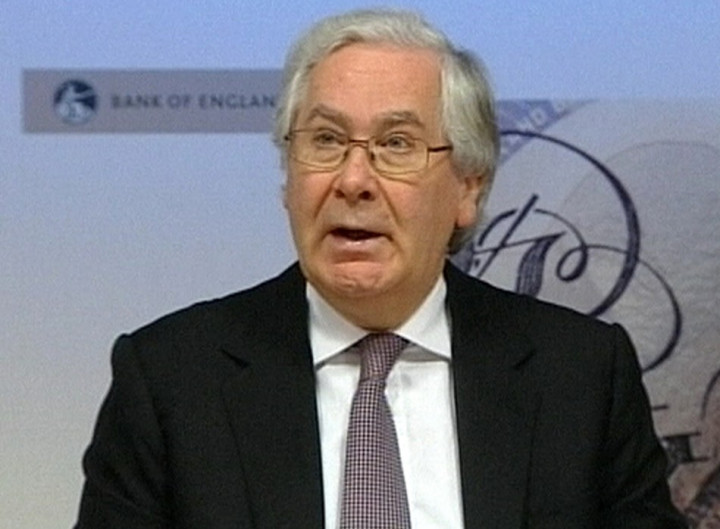 The Bank of England made no change to its key lending rate or the target size of its asset purchase programme Thursday as the debate continues over monetary policy in an economy with slowing growth and accelerating inflation.
Bank of England rate-setters on its Monetary Policy Committee (MPC) faced a tough decision on whether to extend the current quantitative easing programme as inflation remains well above its preferred 2 percent target and the UK economy fell into its first "double-dip" recession since 1975.
"The combination of sluggish activity and sticky inflation put the MPC in a difficult position, and this decision is likely to have been a close call," Ian McCafferty, Confederation of British Industry (CBI) chief economic adviser, said.
"But it appears that the persistence of inflationary pressures tilted the balance in favour of keeping the stock of asset purchases unchanged.
"With economic conditions subdued, and signs of euro area tensions building again, another round of QE cannot be ruled out, but we expect the recovery to be on a firmer footing in the second half of the year, as inflation eases and the global economy strengthens."
Since January 2009 the Bank has pursued its asset purchase facility, commonly referred to as quantitiave easing (QE), which sees it buy up high quality debt such as UK gilts in a bid to improve market liquidity and get the economy moving.
Its decision not to extend the target ends this run of stimulus, meaning as of next month the Bank will not be buying up assets in UK markets.
With the coalition government stubbornly sticking to its austerity programme as it tries to tackle the country's budget deficit in public finances, all eyes are on the Bank's nine-member MPCto help stimulate growth.
Sterling is growing stronger and hit a three-and-a-half year high against the euro, with further gains expected.
There were two extensions on the QE programme's original £200bn target.
"There remains a very significant risk of further QE in the coming months, particularly if UK growth continues at the softer pace that was indicated by April's figures," Richard Driver, analyst for Caxton FX, said.
"The extra bank holiday in the form of the Queen's Jubilee will also weigh on the chances of UK growth bouncing back into positive territory on Q2."
UK back in recession as Europe struggles
Britain's economy was dealt a blow when preliminary GDP figures from the Office for National Statistics (ONS) showed that the country's output contracted by 0.2 percent in the first quarter of the year.
This followed on from a 0.2 percent contraction in the final quarter of 2011, meaning the UK is likely in a double-dip recession.
Eurozone economies continue to weaken and many are mired in recession, struggling through a strict EU-agreed "fiscal compact" which requires stinging govenrment austerity in order to meet deficit reduction targets.
A struggling Europe hinders Britain's chances of recovery given the region is its biggest trading partner.
Chancellor George Osborne had hoped that increasing exports would help to boost the UK economy.
However Britain's manufacturing output is slowing, according to recent purchasing managers' index data, and a weak eurozone coupled with slowing growth in emerging economies such as China looks like increasing exports will be a tough task.
Inflation rate falls slower than expected
Inflation in the UK remains high and rose in March to 3.5 percent, despite Bank of England forecasts that it will fall rapidly in 2012 to meet the government's 2 percent target.
This complicates the Bank's decisions on QE because an extension would push inflation up, which it wants to come down, but the economy is weak and members of the MPC may feel that monetary stimulus is the only possible route to growth given current government policy.
An RBS note said it expects the Bank to raise its two and three year forecasts for inflation in its May Inflation Report, given inflation stickiness and the unexpected increase in March.
Sir Mervyn King, governor of the Bank of England, recently admitted that they should have done more to foresee and prevent the 2008 financial crisis.