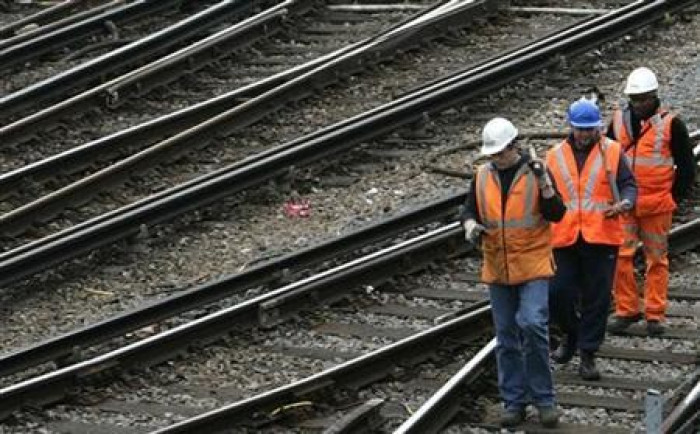 Network Rail has issued a legal challenge against one of the unions who are planning a bank holiday strike over claims of "numerous defects" in their ballots.
The track operator is asking the Transport Salaried Staffs' Association (TSSA) union to pull out of their planned 24-hour strike with the Rail, Maritime and Transport (RMT) union from 5pm 25 May, or face legal action.
Network Rail claim the TSSA union – who represent 3,000 members of staff at the train company – have problems with their ballot information as they continue to "explore all options" with regards to discussions about ending the proposed walk out.
Network Rail said they have yet to formally launch the legal proceedings against TSSA, but will do so if they refuse to withdraw their strike action. It is alleged the problems with the ballot papers include duplications and inaccuracies in the details about the staff who voted.
A spokesperson said: "We have asked the TSSA to withdraw notice of their industrial action as we believe there are numerous defects in their ballot information.
"Network Rail has a responsibility to passengers, freight users and to the country as a whole to do everything we can to avert a strike. Talks with the unions continue and we hope to reach a settlement, but we must explore all avenues at our disposal and that includes legal ones."
Union members rejected an offer of a four-year deal with a £500 ($784) payment this year, inflation linked pay and a promise of no compulsory redundancies until the end of 2016, as the proposals fall "well short" of what is required for living standards.
Manuel Cortes, leader of the TSSA, said: "We are frankly puzzled as to why Network Rail are taking this legal route whilst talks continue today at Acas to solve this dispute and avert next week's strike action.
"They seem more determined to impress [transport secretary] Patrick McLoughlin and the Tories than making a serious attempt to resolve this pay row and ensure that the trains run on time over the bank holiday. We want to settle this around the negotiating table, not in the high court."
The threat of legal action arrived as it was revealed nearly 150 of the striking workers earn between £80,000 and £100,000, with nine getting paid more than £100,000 year.
Details of the wages were disclosed by the Mail on Sunday as McLouglin continues to hope to end the strike.
He said: '"I deplore the threat of industrial action from the RMT and TSSA unions, which will hit millions of passengers travelling home from seeing loved ones on the bank holiday weekend or to work on the Tuesday.
"Not only will it ruin people's travel plans, we are looking at delays to vital engineering work aimed at improving the network. There's a fair deal on the table, so we need talks, not strike threats, because passengers deserve better."
RMT general secretary Mick Cash– whose £138,000 pay packet was also noted – dismissed the report as only 150 of 25,000 workers are high earners.
He told City AM: "It's easy in any industry to pick out the high earners. But these are senior operational managers, who are highly in demand and could probably double those salaries if they worked overseas. The average pay is closer to £30-35,000, which is around the average UK earnings."
Discussing Network Rail's threat of legal action, Cash added: "It is highly damaging that instead of focusing on the talks process Network Rail have opted instead to threaten a dash to the courts to challenge the democratic decision of rail worker members of one of our sister unions.
"RMT will not allow this legal manoeuvring to cloud the real issues in this dispute over jobs, safety and pay justice. RMT will continue to engage in talks while we also finalise the preparations for our national industrial action."