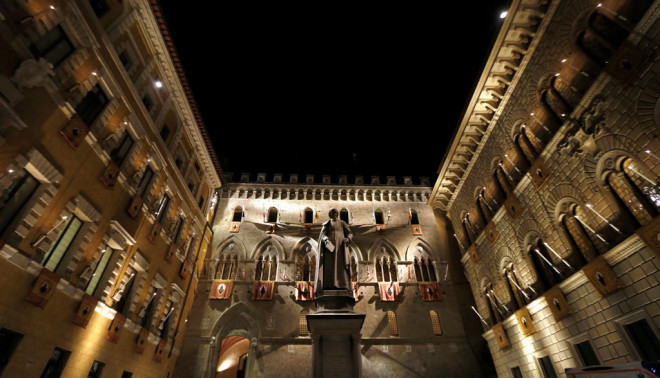 Italy's central bank has authorised the sale of a 6.5% stake in troubled lender Banca Monte dei Paschi di Siena to two Latin American investors.
Bank of Italy's authorisation, which follows that granted by Italy's Treasury, allows the MPS Foundation to offload a 4.5% stake to Fintech Advisory, a US-based fund owned by Mexican businessman David Martinez, and a 2% stake to BTG Pactual Europe, a unit of Brazilian bank BTG Pactual.
The MPS Foundation also said it is awaiting the treasury's permission to invest in an upcoming €5bn ($6.8bn, £4.1bn) rights issue at the bank, which is much more than the €3bn envisaged earlier.
The Foundation now owns 3.1% in loss-making Banca MPS from the 33.5% it held late last year.
Asset manager BlackRock is now the single largest shareholder in the bank with a 5.7% stake.
Losses Mount
Banca MPS, the world's oldest bank and Italy's third-largest, reported its eighth straight quarterly loss on 12 May. Lower net interest income and still high, though declining, bad loans hit earnings.
The bank said net loss for the first-quarter was €174.1m ($239m, £142m) as against a net loss of €101.2m in the year ago period. Net interest income dropped to €445.8m in the first-quarter from €597.7m a year ago.
MPS Stock Sale
MPS chief executive Fabrizio Viola told analysts in November 2013 that the bank had three potential windows to initiate the rights issue - January 2014, June or the end of that year.
Failure to do so in 2014 will result in the nationalisation of the bank, with the Italian government converting state loans into equity.
Turnaround Plan
On 7 October, MPS made public a radical turnaround plan that entailed 8,000 job cuts and aimed for €440m in cost savings. The bank had already laid off 2,700 employees.
Under the new plan, MPS said it could repay its state loans fully by 2017, and that it expected to report a net profit of €900m by that date. The bank plans to repay €3bn to the government in 2014.
The bank said it wanted to reduce its €23bn Italian government debt portfolio to about €17bn by the end 2017.
The bank also said it will cap top executives' pay packages at €500,000 a year, until the capital increase was completed or the state aid was fully repaid.