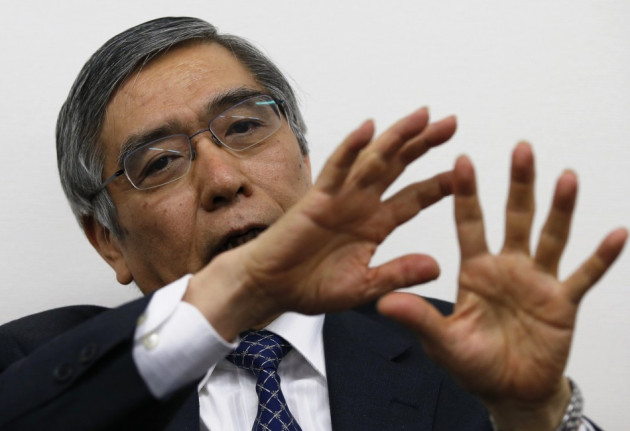 The Japanese government has nominated Asian Development Bank chief Haruhiko Kuroda for the Bank of Japan (BoJ) governor post, a move that signals the continuation of stimulus measures.
Prime Minister Shinzo Abe has also announced two candidates for the post of deputy governor - Kikuo Iwata, a professor of economics at Tokyo's Gakushuin University and Hiroshi Nakaso who currently manages international affairs at the BoJ.
The yen slipped against the dollar after the news, with the currency gaining to 92.60 from 92.40. Stimulus speculations had weighed the Japanese currency about 20 percent lower since November.
It is now up to the upper and lower houses of parliament to vote on the candidates, which is expected to take place in March.
The Japanese local media had already reported that Kuroda would be the government's choice, which seemed appropriate as he was known as a strong advocate of monetary easing measures. But analysts point out that there still remains uncertainty on the central bank's future moves.
"The announcement of Mr Kuroda was widely expected. That said, the path forward may not be so clear given that the BoJ is in unchartered waters," said Tom Kenny, analyst at ANZ.
"It's clear that the new BoJ stewardship will pursue easier policy far more aggressively. This will primarily be achieved by a step up in the central bank's QE programme."
Abe, who took office in December after a landslide electoral victory with economy boosting promises, was expected to seek a dovish central bank head, who would be accommodative of the government's stimulus demands.
The BoJ has for long remained resistant to demands for aggressive stimulus plans, often suggesting that such decisions would not help to boost the Japanese economy. Kuroda has been a strong critic of the BoJ's stand accusing it of slow reaction to Japan's 15-year-old inflation problem.
As the central bank chief, he is expected to boost the asset purchase programme to meet the inflation targets that had been doubled to 2 percent early this year.
According to the Financial Times, speaking at a seminar, Kuroda had said that "a 2 per cent inflation target has become a global standard, and it is a landmark decision on the BoJ's part to adopt the same target".
Kuroda also has a strong international network, having served as Japan's financial diplomat between 1999 and 2003.