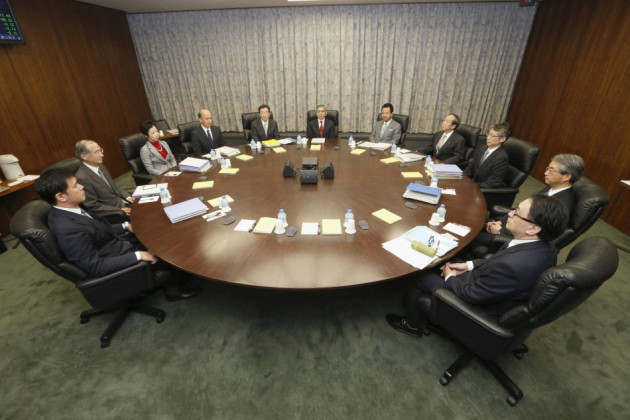 Japan's central bank has unveiled aggressive monetary easing measures in its first policy meeting under the newly-appointed chief Haruhiko Kuroda, who is pursuing a two-year campaign to put an end to years of deflation in the country.
The Bank of Japan (BoJ) said that it would bring "quantitative and qualitative monetary easing" policies in the country to achieve its 2 percent inflation target.
The measures include hiking purchases of Japanese government bonds to an annual pace of about 50tn yen ($536bn, £355bn), buying bonds of all maturities rather than the previous policy of purchasing bonds with up to three-year maturity period and increasing asset purchases especially in the forms of exchange-traded funds and real-estate investment trusts.
The central bank has terminated its previous asset-purchase program, and kept the key interest rate the same at 0.1 percent, in line with market expectations.
The bank also changed the main operating target for money market operations to the monetary base from the uncollateralised overnight call rate. It targets to undertake monetary measures to increase the monetary base at an annual pace of about 60-70tn yen.
The increased bond and other asset purchases are expected to stimulate the economy with near-zero interest rates, by ending sharp price falls.
The central bank's monthly purchases of government bonds averaged at about 3.4tn yen in the first quarter. It currently plans to buy 7tn yen of bonds a month, exceeding the median 5.2tn yen estimated by economists surveyed by Bloomberg.
Kuroda, who was appointed as BoJ chief under the recommendation of Prime Minister Shinzo Abe, had earlier promised "bold" measures in the meeting to reach 2 percent inflation rate and help boost the recovery of the Japanese economy.
The central bank and the government had earlier signed a pact to take all possible measures to achieve the price stability target at the earliest possible time.
Following the meeting results, Japan's benchmark stock index trimmed its losses and the yen plunged, with the dollar shooting up to 93.70 yen from ¥92.90 just ahead of the result.
Economists forecast further monetary easing policies at the next BoJ gathering on 26 April.