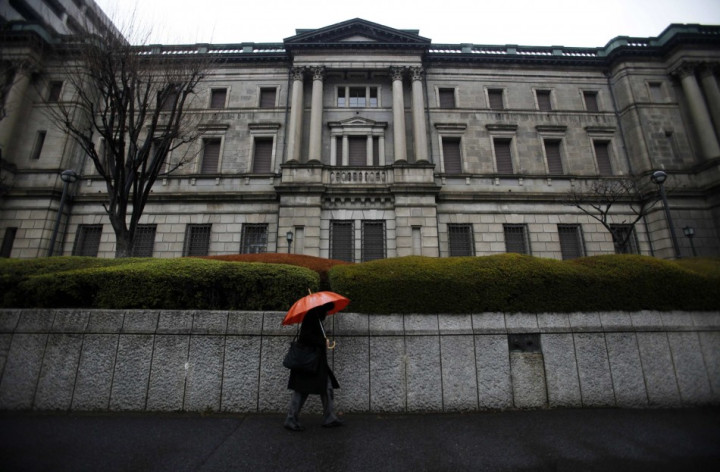 "Japan's economy has started picking up. Exports have stopped decreasing as overseas economies have been moving out of the deceleration phase that had continued since last year and are gradually heading toward a pick-up," the Bank of Japan (BOJ) said in a statement.
The central bank added that there has been improvement in non-manufacturing business fixed investment, public investment and housing investment. Private consumption has been resilient, industrial production has stopped decreasing and financial conditions are accommodative, the bank noted.
The bank also expects a rise in inflation, despite a negative year-on-year rate of change in the consumer price index.
"The year-on-year rate of change in the CPI is expected to register smaller declines for the time being, and thereafter is likely to gradually turn positive," the BOJ said.
The economy is expected to return to a moderate recovery path on the back of the country's aggressive monetary easing measures and a general pick up in overseas economies.
On its 4 April meeting under new governor Haruhiko Kuroda, the central bank decided to double the monetary base and its holding of Japanese government bonds in two years.
In its latest policy statement, the bank said the measures would continue until the country achieves its goal of a stable inflation rate of 2%. The BoJ's forecasts last month highlight that it is not expecting to reach its inflation target until sometime in fiscal year 2015.
One of the members of the bank's policy board was proposing a time frame of about two years for the quantitative easing, but the proposal was voted down.
"The central bank is likely to take some time out to see how its bold policy moves filter through the economy," said Tom Kenny, economist at ANZ Research.
The policy update comes after the Ministry of Finance said that Japan's trade deficit widened more-than-forecast in April as a weaker yen made the country's imports significantly expensive, outweighing the gains from boost in exports.
The ongoing economic policies and their success is expected to be crucial for Prime Minister Shinzo Abe, as Japan is due to go to the polls in July to elect the upper house of the Diet, which is not currently controlled by Abe's ruling Liberal Democratic Party.