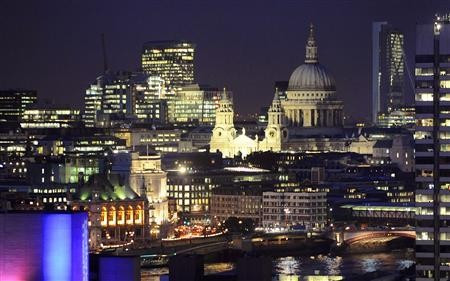 People working in Britain's financial services sector, particularly the banks, are still being awarded excessive bonuses and pay and continue to be encouraged to take risks, say those who work in the sector.
According to a survey published by the Chartered Institute of Personnel and Development (CIPD), 75% of financial services employees, and two-thirds of senior managers, said some people in their banks or companies were still paid excessively.
Even some of the 1,000 financial services sector workers polled in the CIPD survey revealed that some of their colleagues were rewarded in a way that encouraged inappropriate behaviour.
This includes excessive and unauthorised risk-taking, lying to customers and even withholding information from co-workers.
Less than a third of those polled said they were proud to work in the financial services sector.
In 2012, UK Chancellor George Osborne established the Parliamentary Commission on Banking Standards (PCBS), in the aftermath of the first proven case of banks manipulating interbank lending rates and to investigate changes in banking culture and regulations.
Since then it has conducted a raft of hearings to gather more evidence on cultural changes from within the industry and institutions, scandals, as well as from bank chiefs themselves over their executive compensation.
The PCBS is set to publish its recommendations on banking culture in a report by the end of this month.
The CIPD survey showed that the change in banking culture has yet to impact the industry and its workers.
Less than 40% of workers said senior management had led culture change initiatives within their organisations.
However, CIPD's chief executive Peter Cheese said some progress has been made, as company and bank leaders are taking the cultural change more seriously.
Bumper Banker Bonuses All Round
Banks have shed workers since the onset of the credit crisis six years ago and have pruned bonus pools down.
However, a large proportion of bank chiefs are still being paid bumper bonus payments.
Notoriously, the Royal Bank of Scotland chief executive Stephen Hester revealed in February this year that he would still be raking in his deferred shares bonus of around £780,000.
This is despite RBS being fined £390m ($612m/€451m) by US and UK authorities for the manipulation of the benchmark lending rate that month and being found to have mis-sold derivatives and payment protection insurance (PPI) for years.
However, while Hester and RBS Chairman Philip Hampton said that it would cull its bonus pool for the rest of its workers and axe jobs to cover the costs of the settlement, the bank's 2012 results showed a bonus pool of £607m.
HSBC's latest results also revealed that it awarded its chief executive Stuart Gulliver a bonus of £1.95m, despite the bank, under his watch, mass mis-selling interest rate swaps, PPI and settling with US regulators over money laundering.
This is on top of his $11.1mn salary for 2012.
On Budget Day in March this year, Barclays quietly revealed that has a £39.5m bonus pool.
It's chief executive Antony Jenkins, who joined the bank in August last year, has a total potential pay package, including pension, basic salary, and incentives worth £8.6m.
However, he snubbed a potential £2.75m bonus after saying it would be 'wrong' to receive extra compensation due to the number of mis-selling and market manipulation scandals that have rocked the bank.
In March, Lloyd's chief executive Antonio Horta-Osorio said the bank would be paying the "lowest in the city," in bonuses to its workers.
However, 25 of its staff received it more than £1m last year and total bonuses across the bank was cut by only 3% to £365m.
Yesterday, IBTimes UK reported that Japanese banks, which have strong business activity in the UK, Daiwa and Nomura doubled top executive compensation and resumed extra cash rewards, respectively.
However, Britain lost its battle to stop a European Union wide banker bonus cap in March this year, which is set to put a limit on extra pay awards.
It is aimed to strengthen banks' balance sheets and prevent a repeat of the taxpayer bailouts that have fuelled public anger at the sector.