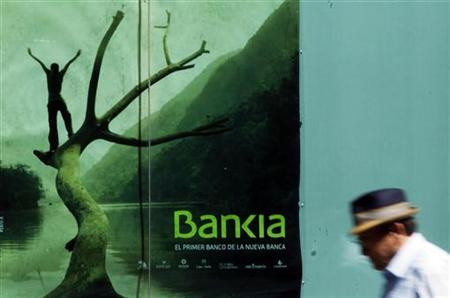 Spanish lender Bankia is planning to sell its stakes in International Consolidated Airlines Group, parent company of British Airways and Iberia, in an effort to raise capital.
The embattled bank is also planning to sell its stake in other companies to ease the pressure of its mounting debts. It holds 5.4 percent in Iberdrola, the energy group that owns Scottish Power in the UK.
"We have a strong group of holdings ... and the reason [for provisioning against it] is that in future, we will logically look to start a sale process," Jose Ignacio Goirigolzarri, president of Bankia, told reporters Saturday.
The bank will present the details of the stake sale during the shareholders meeting set for 29 June.
Bankia, which was partly nationalised two weeks ago, sought a fresh bailout of €19 billion ($24 billion, £15 billion) from the Madrid government on Friday. The government has already shelled out €4.5 billion, making a total loan to the tune of €23.5 billion.
Trading in the shares of Bankia, fourth-largest bank in Spain, was suspended in the Madrid stock market Friday morning.
Bankia is reeling under the pressure of its bad debts, sour property loans and accounting discrepancies. The bank was formed in 2010 from the merger of seven troubled savings banks.
Along with the sour banking system, regional financial troubles are also adding to the worries of the Madrid government.
Earlier, Catalonian President Artur Mas said the demand for high interest rates from creditors is making it difficult for him to raise funds. Catalonia is one of the richest regions in Spain.
"We don't care how they do it, but we need to make payments at the end of the month. Your economy can't recover if you can't pay your bills," Mas told reporters.
The total debt of Spain's regions is reaching up to €36 billion, according to government estimates.