Barack Obama 'must push King Hamad to free Nabeel Rajab', Bahrain's Nelson Mandela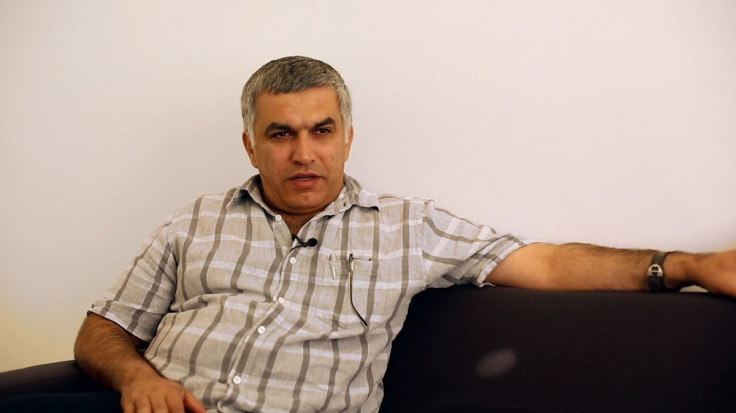 Bahraini human rights activist Nabeel Rajab is in jail in Bahrain over comments he made on Twitter about the Saudi-led war against Houthi rebels in Yemen.
Now as Barack Obama prepares to host King Hamad bin Isa al-Khalifa and other Gulf Cooperation Council leaders at Camp David in May, American-Bahraini human rights activist Husain Abdulla, a friend of Rajab, is urging the US president to raise the case in an open letter, published by IBTimes UK.
Dear President Obama,
When you first entered the political scene, I was initially sceptical that someone who shared my name would ever sit in the Oval Office. Your unwillingness to shy away from a rich and diverse background, however, foreshadowed a presidency sensitive to the popular aspirations of peoples living far from the United States.
You have not only understood what American values mean to so many who struggle to build democracy and defend human rights in their homelands, but you have also grasped the outsized effect that the US government has on the outcomes of these struggles. I now urge you to act on this awareness and press Bahrain's leaders for the release of my good friend, human rights defender Nabeel Rajab.
I write to you as an American citizen originally from Bahrain, an immigrant who came to the US in the late 1990s seeking political freedom. Yet I never forgot the persecution suffered by the relatives and friends with whom I grew up. I founded an organisation here, Americans for Democracy and Human Rights in Bahrain, to represent the voice of Bahrainis seeking to form a democratic society at peace with itself and its neighbours.
This voice rose from the tens of thousands who flooded the streets of Manama in 2011 to demand their rights. Bahrain's government did its utmost to silence this democratic movement, violently suppressing protests and jailing and torturing dissenters. My former government even made time to go after me, revoking my Bahraini citizenship in 2012 for activities I conducted on American soil.
On May 14<sup>th, you will host the head of this government, King Hamad bin Isa al-Khalifa, at Camp David, along with the other heads of state from the Gulf Cooperation Council (GCC). While there will be many issues to discuss — the Iranian nuclear agreement, the military intervention in Yemen, the challenge of Da'esh — I urge you to prioritise the plight of Nabeel Rajab and all other prisoners of conscience who are being punished for daring to speak freely.
In late March, Nabeel reported on the torture of inmates at Bahrain's infamous Jaw Prison. That same week, he published a series of tweets expressing his personal opposition to the GCC intervention in Yemen. In response, authorities arrested Nabeel on April 2<sup>nd and accused him of "spreading rumours during wartime" and "insulting a statutory body", charges for which he faces up to 10 years in prison.
Both charges stem from language in Bahrain's Penal Code, decreed in 1976. Article 133 of the law mandates prison "for a period not exceeding 10 years" for a person "who deliberately announces in wartime false or malicious news, statements or rumours." Article 216 of the same law threatens to imprison and/or fine anyone "if he offends, by any method of expression", any constitutional body or government agency.
The law's use of vague and expansive language potentially criminalises any speech that criticises official actions or challenges the government's narrative of events. Officials can invoke it selectively, as in Nabeel's case. The only point which the code makes clear, in fact, is the government's complete lack of regard for the right to free expression guaranteed by Article 19 of the Universal Declaration of Human Rights.
While Bahrainis are familiar with government efforts to punish free expression, there is something larger at work here. Nabeel is in prison because his actions directly undermine the Bahraini government's attempts to paint the opposition as violent and sectarian. He is a tireless advocate for peaceful activism. No matter the immediate challenge, he consistently holds to the universal rights and freedoms upon which he has staked his life. While I understand the differences in both political context and national perspective, I mean very seriously when I write that he is Bahrain's Martin Luther King Jr. And like Dr King, Nabeel has spent serious time — over two years of his life, with more to come — behind bars for practicing what he preaches.
I have had the tremendous fortune to call Nabeel Rajab my friend for many years. I would be doing him, and the people for whom he struggles, a terrible disservice if I did not urge you to address his case to King Hamad at Camp David. I ask that you push for his release, the release of his fellow human rights defenders, all political prisoners and the immediate reform of catch-all laws which criminalise even modest expressions of dissent. We are all concerned about regional stability, but Bahrain's people will never feel secure until they know that they can voice their opinion without fear of government reprisal.
Sincerely,
Husain Abdulla
Husain Abdulla is the executive director of Americans for Democracy and Human Rights in Bahrain.
© Copyright IBTimes 2023. All rights reserved.