The US Army Corps of Engineers is reviewing possible rerouting of the Dakota Access Pipeline, Barack Obama has said.
Protesters, including the Standing Rock Sioux and environmental activists, have spent months trying to block the construction of the pipeline,
"We're monitoring this closely and I think, as a general rule, my view is that there's a way for us to accommodate sacred lands of Native Americans, and I think that right now the Army Corps is examining whether there are ways to reroute this pipeline," Obama said during an interview with NowThis News.
"So we're going to let it play out for several more weeks and determine whether or not this can be resolved in a way that I think is properly attentive to the traditions of the first Americans," he added.
Protesters have set up camp in land along the pipelines current route by the Standing Rock Sioux Reservation in North Dakota. According to NPR, a federal judge ruled that construction on the pipeline can move forward, however the Corps and two other agencies said work would not move forward in an area especially sensitive to the Sioux Nation.
Dave Archambault II, the chairman of the Standing Rock Sioux, responded to the president's comments: "We believe President Obama and his administration will do the right thing."
Obama's remarks, however, were not welcomed by Morton County Chairman, Cody Schulz, who said he did not agree with the president's decision to allow the situation to play out.
"Rather than creating further uncertainty, the President should be sending us the support and resources necessary to enforce the law and protect people's right to peacefully protest."
Energy Transfer Partners, the pipeline company in charge of the Dakota Access LLC, said it was unaware of the possibility of an alternate route. "We are not aware that any consideration is being given to a reroute, and we remain confident we will receive our easement in a timely fashion," spokeswoman Vicki Granado said.
According to the Los Angeles Times, construction on the 1,170-mile pipeline began earlier this year and is about 75% complete. The pipeline, which would transport as much as 450,000 barrels of crude oil daily from North Dakota to an existing pipeline in Illinois, would travel under Lake Oahe, which provides the tribe's water supply.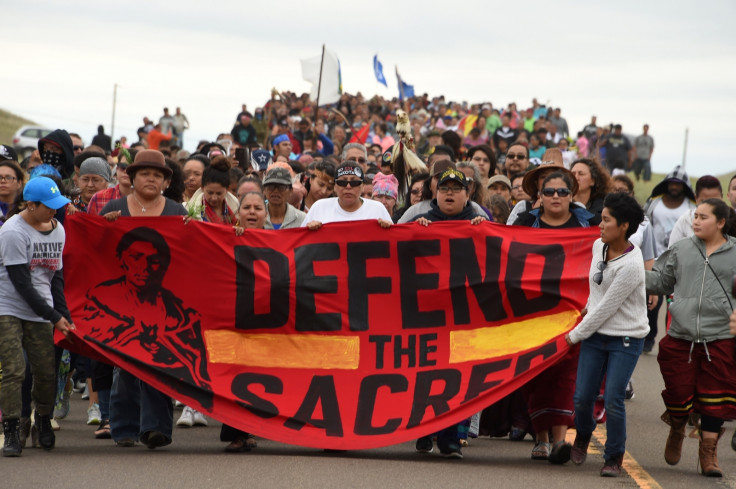 The Obama Administration asked Dakota Access to voluntarily stop construction within 20 miles (32km) of federal land but the company refused to do so. The Standing Rock Sioux argue the pipeline puts their water supply at risk and threatens sacred sites.
Demonstrators and law enforcement have clashed as protests began escalating towards the end of the summer. In late October, protesters set roadblocks and lit a vehicle on fire to stop police from moving on their camp. Over 140 people were arrested.