Barack Obama has become the first US President to visit Hiroshima – the site of the first atom bomb that had been deployed by America during World War II. On 27 May, he visited the historical site with Japanese Prime Minister Shinzo Abe as part of the Japan leg of his tour of Asia.
At the Hiroshima Peace Memorial Museum he signed the guest book and laid a wreath at the cenotaph, which was constructed in memory of those killed in the 6 August 1945 blast.
Speaking to those gathered at the event, Obama said, "71 years ago, on a bright cloudless morning death fell from the sky and the world was changed. A flash of light, a wall of fire destroyed this city.
"We have a shared responsibility to look directly into the eye of history and ask, what we must do differently to curb such suffering from happening again.
"We are not bound ... to repeat the mistakes of the past. We can learn. We can choose."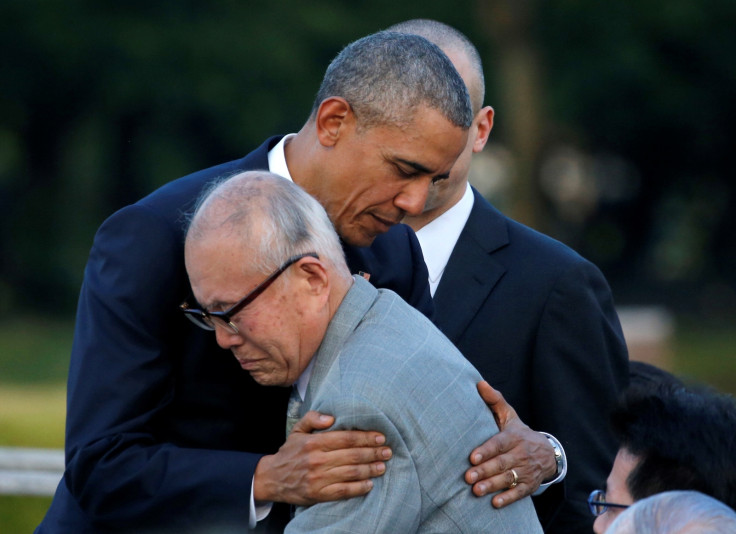 He went on to stress the need for a nuclear arms-free world pointing out that technological progress without equivalent human progress "could doom us".
"We must have the courage to escape the logic of fear and pursue a world without them [nuclear weapons]," he said. "We may not realize this goal in my lifetime. But consistent effort can roll back the possibility of catastrophe."
After his speech, the president spent time shaking hands, hugging and talking to a number of survivors of the bomb attack.
Prior to his memorial visit, Obama travelled to the Iwakuni Marine Corps Air Station outside Hiroshima. During his visit he spoke to soldiers and families and reiterated his intentions behind his visit to the Hiroshima memorial park.
"This is as opportunity to honor the memory of all those who were lost in World War II. It's a chance to pursue peace and security, a world where nuclear weapons would no longer be necessary. And it's a testament to how even the most painful divides can be bridged," he said at the Iwakuni base.
Obama had earlier told the Japanese media that the visit would show that "even former adversaries can become the strongest of allies".
He clarified that he would not be making an apology for the atomic strike and instead planned to use his visit to Hiroshima to stress the importance of making the world "nuclear arms-free".
"I will also reflect on the vision I outlined in Prague [in a speech given in 2009] of a world without nuclear weapons," he said.
Watch the wreath laying ceremony below: