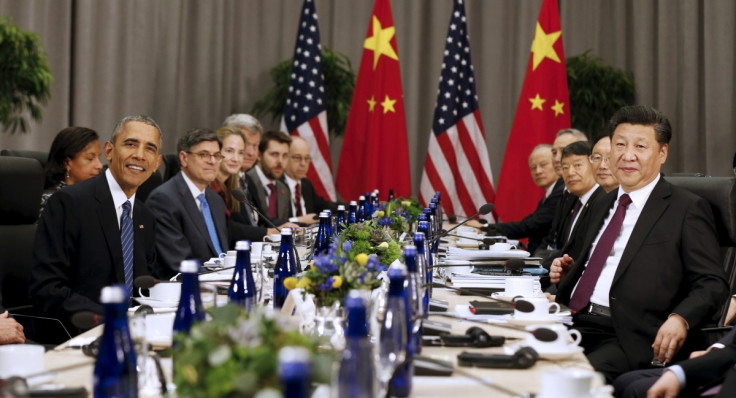 Presidents Barack Obama and Xi Jinping have held "candid" talks on the sidelines of a nuclear summit in Washington, narrowing differences between the countries. Both leaders have agreed to work towards denuclearisation of the Korean peninsula.
Though Washington and Beijing remain far apart on issues such as increasing militarisation of the South China Sea and the US defence's recent plans for South Korea, the two parties said the talks were "constructive".
Zheng Zeguang, China's assistant foreign minister, told reporters: "The presidents of the two countries had candid and in-depth exchange of views on a variety of issues... and reached an important consensus. The meeting was positive, constructive and fruitful."
Xi is in Washington to participate in a two-day global nuclear security summit near the White House. More than 50 governments and global organisations are attending the summit, which began on 31 March with an aim to curb risks posed by groups such as the Islamic State (Isis).
Shortly prior to the bilateral discussions, Obama said: "Of great importance to both of us is North Korea's pursuit of nuclear weapons, which threatens the security and stability of the region. President Xi and I are both committed to the denuclearisation of the Korean Peninsula." The American president had earlier met Japanese Prime Minister Shinzo Abe and South Korean President Park Geun-hye.
In his comments made via an interpreter, Xi also assured: "China and the US have a responsibility to work together."
Ever since Pyongyang's fourth nuclear test on 6 January and its long-range rocket launch on 7 February, tensions in the Korean peninsula has been constantly accelerating. Washington has been urging China, a key North Korean ally, to put more pressure on the Kim Jong-un regime to scale down its nuclear ambitions.
However, Beijing authorities have clearly signalled they are "firmly opposed" to the US's proposal of installing a new missile defence system in South Korea to counter threats from the North. Beijing says the system would allow radar coverage of Chinese sovereign territories — a move which is also opposed by Russia.