Barcelona anti-tourism activists slash bike tyres after attacking tour bus
Protesters sprayed the words "tourism kills neighbourhoods" on a bus packed with holidaymakers.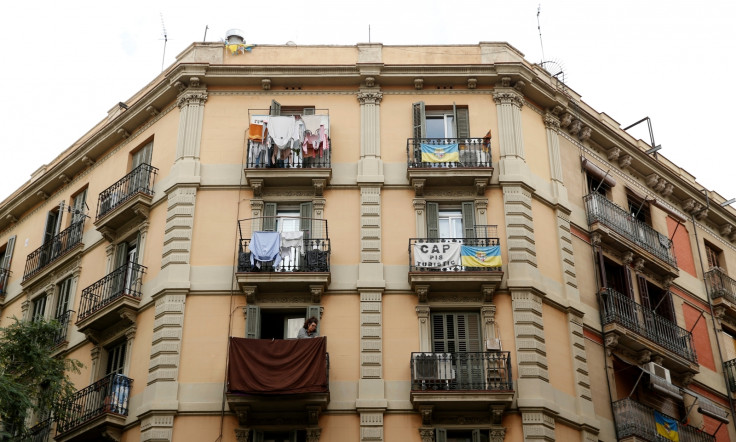 Anti-tourism activists in Barcelona were shown slashing bicycle tyres in a video released just days after they vandalised a tour bus outside the Camp Nou football stadium.
Political group Arran, the youth wing of the Catalan CUP (Popular Unity Candidacy) party, shared the video of its members destroying the tourist bikes on its Twitter account.
The video was accompanied by the words: "We are fed up with the occupation by tourist companies of the public space of the neighbourhood."
The attack was directed at a new scheme that allows tourists to unlock bikes by using an app. Activists are critical of the scheme, which they say is using taxpayers' money to generate a profit.
The attack on the tourist bikes is the second Arran protest against "mass tourism" in less than a week.
On Thursday (27 July), members of the group stormed a bus full of holidaymakers parked outside Barcelona's Camp Nou stadium. The passengers, many of them children, thought they were being attacked by terrorists. The protesters sprayed the words "tourism kills neighbourhoods" on the windscreen of the bus before running off.
The tourbus estimated the damage to the bus at €1,842 (£1,600).
A spokesperson for Arran, justified the vandalism by arguing that it was done in "self defence".
"The mass tourism in Catalonia is generating huge social inequality," a spokesperson told IBTimes UK. "Thousands of people are forced to leave their neighbourhoods and thousands more are forced into very bad working conditions."
"We are not against working class tourists visiting Catalonia. We are against the political parties and lobby groups that are earning millions while the working class here is suffering," Arran said.
The CUP, which is propping up the nationalist Catalan government, has been criticised for refusing to condemn the attacks.
Barcelona city councillor Santi Vila said that Arran's anti-tourism campaign would harm the Catalan capital's reputation and would not "help the cause of independence."
CUP MP Mireia Boya rejected Vila's claim, calling it "pure economic violence."
"We are constantly asked to repudiate violence when the violence is provoked by the Catalan government," Boya said.
Barcelona's mayor, Ada Colau, has cracked down on tourism in the past year. In January, her left-wing citizens' movement BComú passed a law preventing new hotels from opening in the city centre and imposing a moratorium on licenses for tourist apartments.
BComú said the legislation aimed to "preserve housing stock and prevent the expulsion of residents from their neighbourhoods due to rising rents".
In 2016, an estimated 32 million people visited the city, which has a population of 1.6 million people. Barcelona residents blame the tourism industry for the steep rental prices, which are the highest in Spain.
© Copyright IBTimes 2023. All rights reserved.