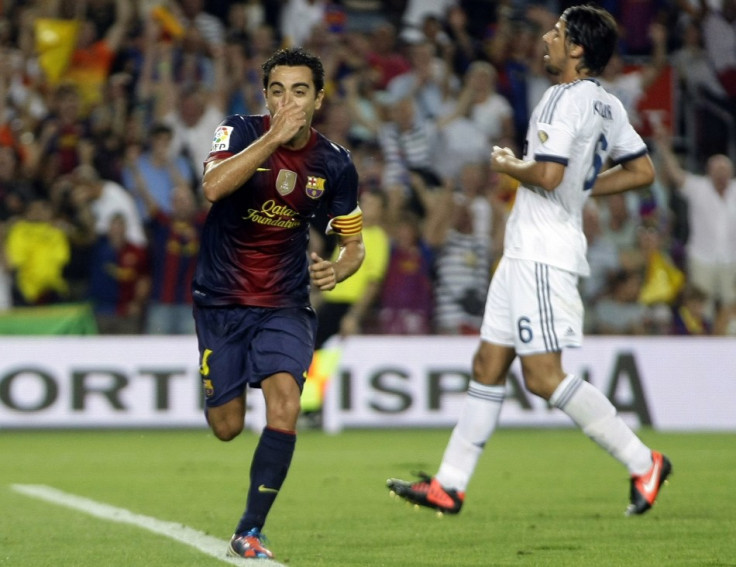 Barcelona legend Xavi Hernandez lavished praise on the current Manchester United manager Louis van Gaal during a press conference announcing his departure from the Camp Nou at the end of the campaign.
The 35-year-old midfielder will join Qatar side Al-Sadd after 17 successful campaigns at the Catalan club.
Regarded as the chief exponent of the tiki-taka style, Xavi has won three Champions Leagues and eight La Liga titles during his time at the La Liga giants and also led the Spanish national team to the 2010 World Cup and the 2008 and 2012 European Championships.
But having seen his playing time limited this season he has opted for a new experience in Qatar.
During his farewell press conference on Thursday 21 May, the Catalan sent a special message to "underrated" van Gaal after the Manchester United boss handed him his debut at the Camp Nou at the age of 18 on 18 August 1998.
"I remember a lot from Van Gaal. Because besides training the first-team he was an educator (for the academy players). He used to come to see the youth team. He was a great educator. Over the years you realize that at this club he was underrated because you realize the wisdom he had. Now that I am more mature I am aware of that."
Xavi has, meanwhile, explained his decision to leave the club at the end of the campaign on a high with the possibility of saying goodbye as a treble winner, having already won La Liga and through to the finals for the Copa del Rey and the Champions League.
"It has not been an easy decision to make. But my head and my body say that now is the time to leave, although not my heart. I need a change," he said.
"When everyone talks of the 'Gala XI', my name does not appear anymore, which isn't easy to take, even if the main thing is the group."
The Spaniard said Barcelona made him an offer to stay but he believes now is the right time to leave, although hoping to return to the club in the future.
"Barça made me a good offer to stay until 2018, but I will go to play in Qatar with Al-Sadd. My main objective is to prepare to come back here one day, as a coach, a director of football... we will see.
"There is an exciting project in Qatar and at Al Saad. I have signed a contract to play for two years and I have a very important project at the Aspire Academy. I can train there as a coach and a sporting director."