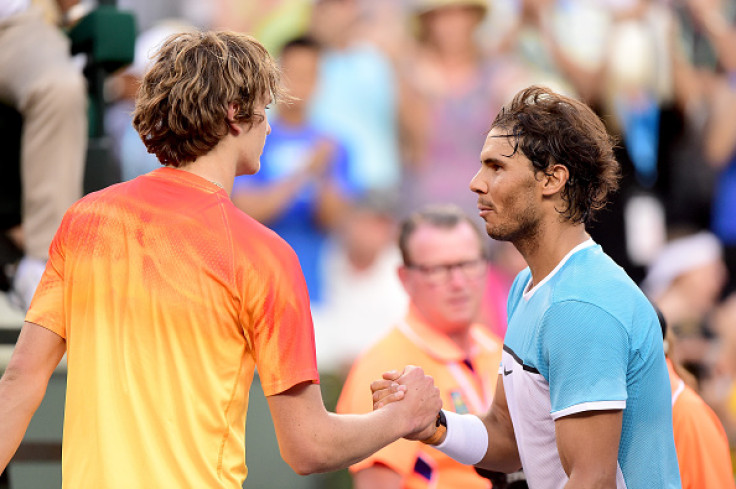 Rafael Nadal has revealed that he thought Alexander Zverev's recent statement about playing in the Barcelona Open to face him was "strange."
Zverev will not have a chance to test his mettle against Nadal again as he crashed out 6-1, 6-4 in the round of 16 to Chung Hyeon in Barcelona on Thursday (27 April).
The German, who suffered his third loss to Nadal in Monte-Carlo, had previously said that a big reason he decided to play in Barcelona was to face the Spaniard again.
"There's a certain Mr. Rafa Nadal in my section," Zverev said. "Maybe some of you remember the match last week."
"That's in the back of my mind and to be very fair, that's a very big reason why I am here: to get another shot to be on court with him."
Zverev was hoping to meet Nadal in the quarter-final stage, however, suffered his straight-set upset loss to the South Korean instead. While the 20-year-old's match was still going on, Nadal – who had just beaten Kevin Anderson to reach the quarter-final – spoke about him in the post-match press conference.
"Zverev can be at the highest level and aim [for] the most important things of the sport," Nadal said, as quoted on TennisWorldUSA. "Then you have to show it on court and be humble to work. I know he likes tennis, but I don't know him enough to know his humility. If you have it, it's easier."
"Otherwise I think he will make it because he has the qualities. There are many ways to be at the top. If you have feet on the ground you are happier and the street is less complicated. It's strange that he says that he comes to an event to play against someone. I play certain events because I think it's better for my calendar or to improve."
The 14-time Grand Slam winner also spoke about the eventual winner and his quarter-final opponent in world number 94 Hyeon.
"I know him less, if he will win I see some videos of him tonight in order to have a clearer idea of how he plays," he added. "I am playing at a very high level, tomorrow the weather will be good, the court will be faster than last two days and it's a good news for players and their body because an heavy court is dangerous for the arm, elbow and wrist."
Nadal takes on Hyeon in the Barcelona Open quarter-final on Friday (28 April).