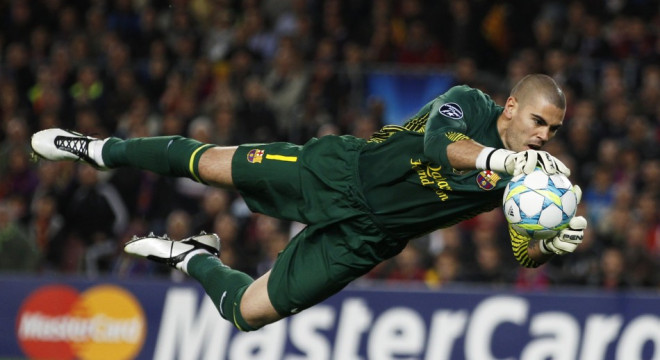 After the defeat in the FA Cup against Wigan last weekend, Manchester City are determined to complete a monumental comeback against Barcelona in the first leg of their Champions League last 16.
Manuel Pellegrini's side will go for it even though the Catalans have the result in their favour. The home side are struggling and their players are aware there is much work still to do.
In an interview with The Guardian, Barca goalkeeper Victor Valdes warned that the tie is not over, saying: "2-0 is a good result but not definitive, especially with the talent they have. And [Sergio] Aguero will be back.
"He [Aguero] scored goals against me at Atletico and he is a spectacular player: he gets shots away quickly and moves intelligently. They are a great team. We have to play well or it will cost us."
Valdes admitted that it has been an especially traumatic season because of the external issues swirling around Barca, saying: "It is hard to keep a sealed dressing room. Everything's analysed to the last centimetre and if you cannot isolate yourself from that, it can affect you.
"The environment is vulnerable and marks the dynamic of the club; one day you are up here, the next down here."
The Catalan keeper announced in January that he will leave the club at the end of the current season eighteen months, before his contract expires, without a specific destination.
Pellegrini, who knows Valdes well from his time in La Liga, and the rest of City's Spanish contingent may prove to be crucial in Valdes' final decision to snub Monaco and move to the Premier League. Liverpool have also joined the race to acquire his services.
The 32-year-old said he has not decided his future yet but praised the Premier League, saying: "There are traditions like applauding the opposing keeper. It is another footballing culture, one I have always identified with."