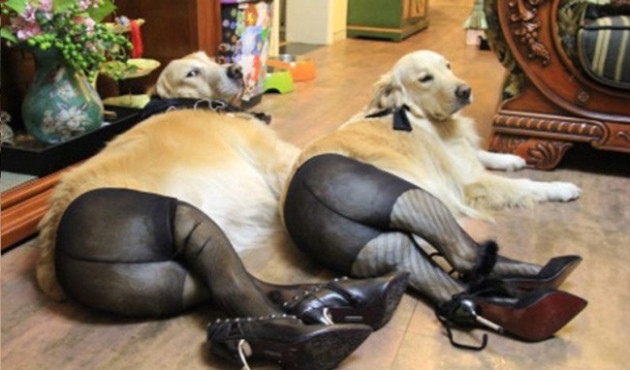 The market for clothing for pets is growing as more dog owners dress up their pooches in outfits, ostensibly to keep them warm and dry. But a bizarre new trend in China is taking things a step further.
In a new craze to hit the internet, Chinese dog lovers have been dressing their animals in sexy stockings and high heels.
Dog owners have been uploading pictures of their pets dolled up in various "sexy" poses on to Weibo, the Chinese equivalent of Twitter.
From labradoodles to alsatians, every image posted online shows animal participants in questionable outfits and looking less than impressed.
Most of the subjects in the doggy boudoir snaps are lying down with their hind legs facing the camera.
Although the creators of the meme are difficult to pinpoint, it is believed that Weibo user Ulatang is responsible for creating the trend.
The bored pet owner posted a snap of his two labradors wearing pantyhose and stiletto heels. He claimed that the beasts "rolled their eyes" when they were put in their racy outfits.
His image has already received nearly 20,000 comments and drawn condemnation from around the globe.
One critic said: "These poor dogs. Seriously! While this does seem slightly mean, I guess it's no meaner than people dressing their pets up in other outfits.
"Whether or not this is more humiliating, that's another matter altogether.
"Dressing dogs up as humans is sick these people need to get a life."