Barnes & Noble Nook HD Review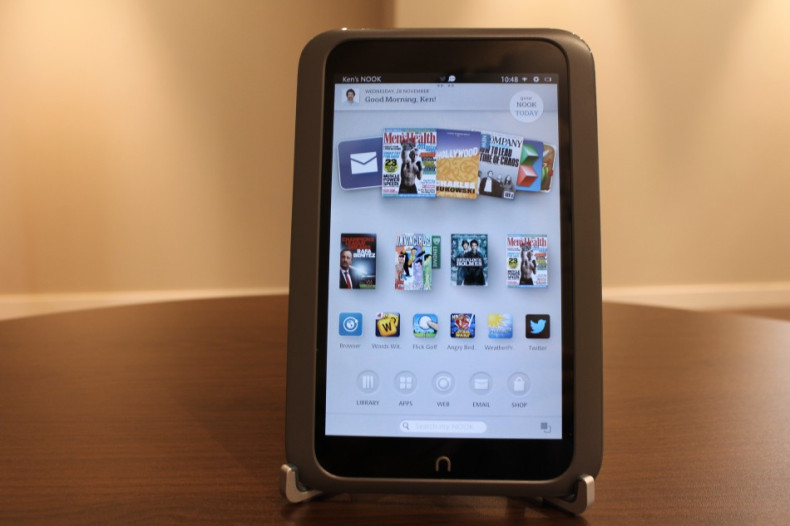 Key Features:
7in screen, resolution of 1440 x 900, pixel density 243 per inch
Dual-core 1.3GHz processor with 1GB RAM
8GB storage plus microSD card slot
Barnes & Noble Nook HD: Introduction
With it's friendly rounded corners, soft plastic finish and user accounts for all the family, it's obvious to see that the Barnes & Noble Nook HD is the most family-friendly tablet on the market.
But even with these features, sticking its nose into the already crowded 7in tablet market won't be easy - especially here in the UK, where Barnes & Noble isn't yet a household name, and Amazon and Google already have places reserved under Christmas trees nationwide.
I spent a few days with the Nook HD to find out if B&N's slightly different approach has paid off.
Barnes & Noble Nook HD: Design and Feel
With its two-tone design, the Nook HD manages to look different enough from the rest of the 7in crowd without standing out for the wrong reasons, and the screen is one of the best on the market.
The light grey rear cover has a slightly rubberised finish to it, helping the Nook to feel like a more premium product than the low price might suggest, while the sides are glossy and the front is matt grey.
Sadly, the front isn't blessed with that rubber finish and instead has to make do with regular plastic, which has the colour and texture of the dashboard in an old minicab; it feels cheap and I expect it to become shiny with use.
Otherwise, I was impressed with the Nook HD. The light grey, matching user interface and soft back make the tablet appear somehow friendlier and more welcoming than if it was all black.
Measuring 194 x 127 x 11mm, the Nook HD is almost exactly the same size as the 7in Samsung Galaxy Tab 2 and the Nook weighs 315g, ten percent less than the Samsung and making the Nook comfortable to hold in one hand.
There is a power button on the left edge, a headphone jack at the top, a volume rocker on the right and a port for charging and syncing on the bottom, which looks almost identical to Apple's old 30-pin dock connector.
Next to that port there is a flimsy and difficult-to-open door, revealing the Nook HD's microSD card slot.
Around the back, there are two speakers and below the 7in glass-covered screen sits a home button shaped like the Nook logo.
There are no surprises here and everything is where you would expect it to be, although I would rather Barnes & Noble had used microUSB instead of a proprietary port for charging - one day you'll leave the cable at home, or lose it, and a regular USB cable will be no help.
Barnes & Noble Nook HD: Display
Barnes & Noble has put a lot of work into the screen of the Nook HD, and it's paid off. Boasting an HD resolution of 1,440 x 900, the screen has more pixels than the Google Nexus 7, Samsung Galaxy Tab 2 7in and the larger iPad mini.
Seven inch tablets are all about consuming content, and this is where the Nook HD excels. The display is excellent, with sharp text, strong colours and deep blacks.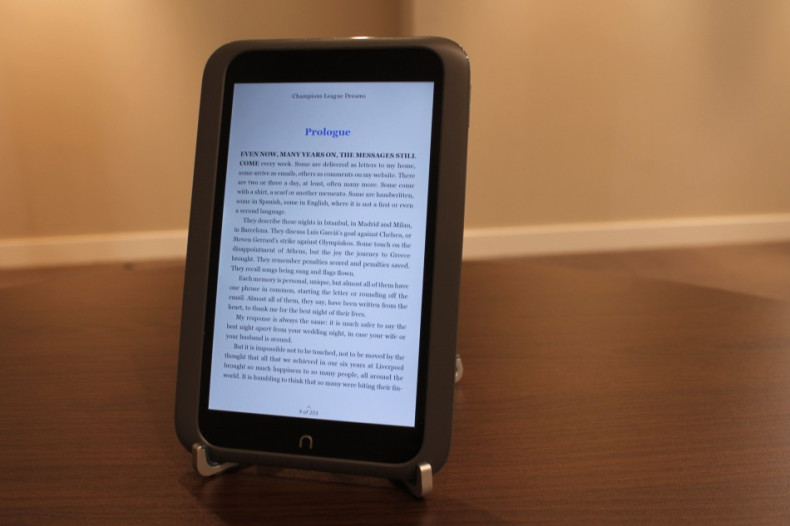 Watching HD video on the Nook is a real pleasure, and thanks to the aspect ratio widescreen films take up most of the screen, so the black bars above and below the picture are small, unlike those on the squarer iPad mini that seem to take up more space than the film itself.
The aspect ratio means that reading a book in portrait seems a little unnatural at first, as the tablet feels too tall, but it's not as bad as reading on larger widescreen tablets - such as the Microsoft Surface - and you soon get used to it.
There is a problem here though - Barnes & Noble's film and TV store will not be available until "early December", so early adopters will not be able to buy or rent films and TV programmes until then.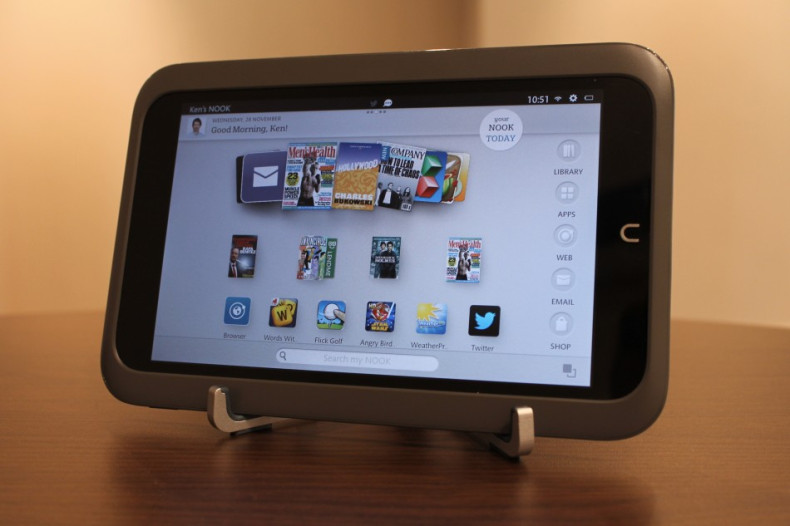 As with all glass-covered screens, the Nook HD suffers from glare and reflections when used outside, but the display can be turned up bright enough to overcome most of this, so reading in daylight is still possible.
One issue I did encounter with the screen was tapping icons which appear along the top of the screen, such as notifications and the settings menu in the top right corner. You have to tap slightly above the icons, along the top edge of the screen in order to access them, rather than tapping them directly.
Overall, this is an excellent screen and without doubt the best of any 7in tablet on sale right now.
Barnes & Noble Nook HD: Interface and Accounts
Although Barnes & Noble says the Nook HD runs Android 4.0 (Ice Cream Sandwich), you'd actually have no idea of its Google origins, as B&N has installed its own completely custom interface.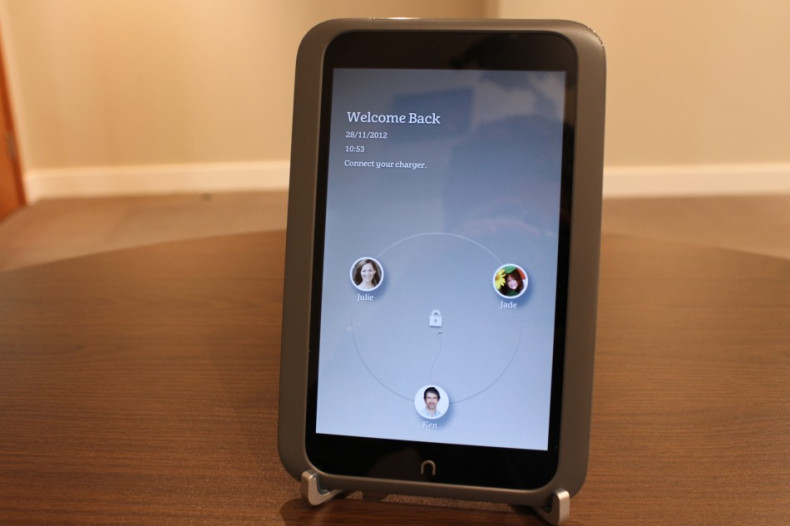 As Amazon has done with the Kindle Fire, B&N has given the Nook HD a user interface that is completely unique, but still has everything you would expect.
There are five home screens that you can fill with apps, links to the B&N store, the web, email, and shortcuts to your favourite books, newspapers and magazines.
It's an attractive interface that puts content - especially books and magazines - front and centre, with a carousel of your recently watched, read or played content at the top.
The Google Play store is missing, although Barnes & Noble has provided access to its own online shop, where popular apps and games sit alongside books, magazines, movies, TV programmes, newspapers and a separate section for children's applications.
A major part of B&N's bespoke user interface is the ability to have multiple user accounts. Demanded by iPad and Android tablet users for years, splitting the device up with a different account for each member of the family is a very good move.
Setting up an account is easy and once you've entered your name and picked an avatar the device asks you to select categories of magazines and books that you are interested in, then offers up some free book samples to get you started.
Every time you lock the device it returns to the login screen, ready for the next user, or you can switch between users with just a couple of taps.
As for security, a passcode can be set, but it has to be the same for every account on the device, except for a child's account, which can be left password-free.
User accounts are certainly welcome on a tablet and I hope Apple, Google and others will follow suit soon. Sure, that might suggest that the whole family needn't buy more than one tablet, but I think it's a feature that will appeal to those who may not have bought one at all otherwise.
Barnes & Noble Nook HD: Performance
The Nook HD is powered by a 1.5GHz dual-core processor with 1GB of RAM, which is enough to run the tablet with very few performance issues.
In theory, the ARM A9 chip should be enough to run whatever you throw at it - and in testing it managed just fine - but using the Nook HD makes you feel that intensive gaming and editing spreadsheets aren't really what this tablet is for.
Content is king here, so reading is what you'll spend most of your time doing with the Nook HD. Leafing through magazines is easy, and there are some nice (and not too gimmicky) page turn animations and shadows to help make the experience feel more natural.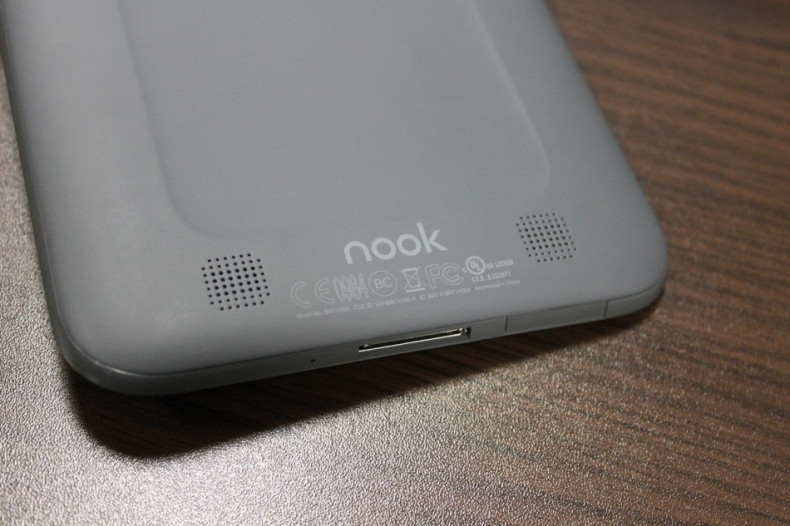 The Nook HD has no problems with opening up content, flicking through magazines and browsing the web, but it's not perfect. Switching between accounts isn't as smooth as I'd like, as the device stutters a little before the new user's content is brought up on screen.
The included web browser is functional, but there are some performance issues; your bookmarks are saved as thumbnails of the web page they represent, which is useful, but tapping on one makes it expand to fill the screen, but in doing so the thumbnail is stretched out of shape, stutters and causes the screen to flicker until it is fully open.
The pages are fully responsive once open, but I'd like to see B&N fix the graphical glitch and make opening our bookmarks smoother and less jarring.
Just once, I encountered a problem where the pixels between a row of home screen apps would appear in the wrong colour (see below) but a quick reboot fixed this and the problem didn't happen again.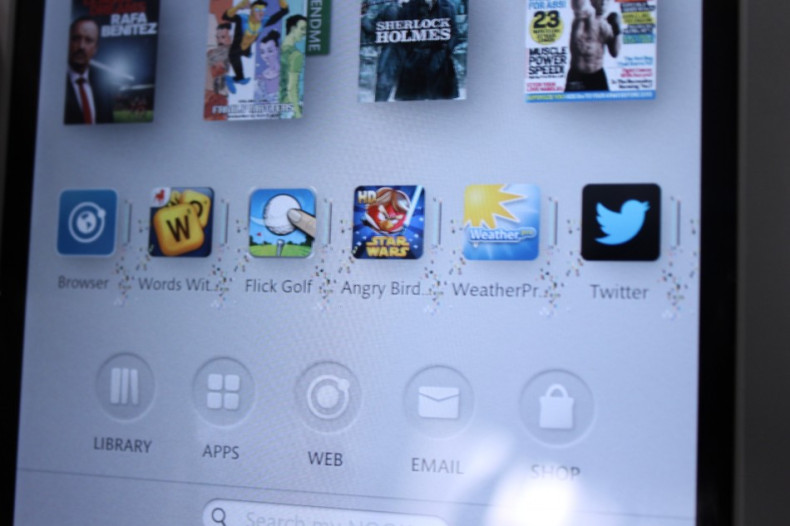 Despite some occasional user interface quirks, I like what Barnes & Noble has done here with the Nook HD. By taking Android they're starting with a solid, flexible and reliable operating system, and given it an entirely bespoke look that keeps the focus on consuming rather than creating.
Barnes & Noble Nook HD: Content
Although it runs Android, the Nook HD does not have access to the Google Play Store. Instead, Barnes & Noble offers its own version, which only has around 10,000 apps and games to offer - despite this, the company has said that these are all tablet-optimised, so you won't see any ugly, stretched smartphones apps.
This doesn't sound like much compared to the hundreds of thousands on offer from iOS and Android, but the selection isn't bad. There is Angry Birds Star Wars, Cut The Rope, Doodle Jump, Words With Friends and many other hugely popular mobile games; and for apps there is Flipboard, Netflix, Twitter, Evernote and Dropbox to name just a few.
The selection might be small, but there is a lot of what you want here.
One thing I noticed is the Nook's pricing structure - or rather, the lack of one. Apps are priced at £1.14, £2.29, £2.86, £3.44, and just about everything inbetween. I don't really know why the prices are all over the place, and I would rather Barnes & Noble stuck to a set pricing structure, like in the iOS App Store.
As for video, Barnes & Noble is yet to open its film and TV shop in the UK (that's coming in December, the company says) so for now you'll have to load it up with your own video files; for this the Nook HD is surprisingly flexible, catering for high quality DivX and Xvid files.
When Nook Video finally goes live, Barnes & Noble has promised content from HBO, Sony, Warner Brothers, Viacom and Disney; all of the content will be available on the Nook tablet and on other devices through an app which is now available for iOS and Android.
There are no signs of B&N offering a music store any time soon, so you'll have to transfer your music to the Nook HD from elsewhere. The tablet has a simple music app pre-installed and will play MP3, AAC, OGG and WAV files, but if you're planning to load much onto the Nook you'll need a microSD card to increase that low 8GB of internal storage.
Reading is where the Nook HD excels, with Barnes & Noble relying on its bookseller roots to offer a comprehensive catalogue of books, magazines and some newspapers.
The book and magazine sections of B&N's shop both offer a wide choice for all tastes and there's also a section for children, but so far just the London Evening Standard, Daily Star, Express and Independent newspapers are available in the UK. I'm sure this will increase, and we will no doubt see offerings from the Times, Telegraph, Guardian and others soon.
Barnes & Noble Nook HD: Verdict
The Nook HD isn't like other tablets. While it may have Android underneath, no one needs to know that, and nobody really needs to know how fast the processor is or how much RAM there is.
All that users of the Nook will need is access to a decent range of books, magazines and newspapers, a web browser for use when they're away from the laptop, Twitter (sadly there's no native Facebook app) and video (coming in December).
With just 8GB of internal storage you will definitely need to install a microSD card, but once you have, the Nook HD is surprisingly good for a tablet that has clearly taken a different route than to copy everyone else.
Along with the SD card, I'd suggest some decent headphones too as the two internal speakers are terribly quiet and poor quality.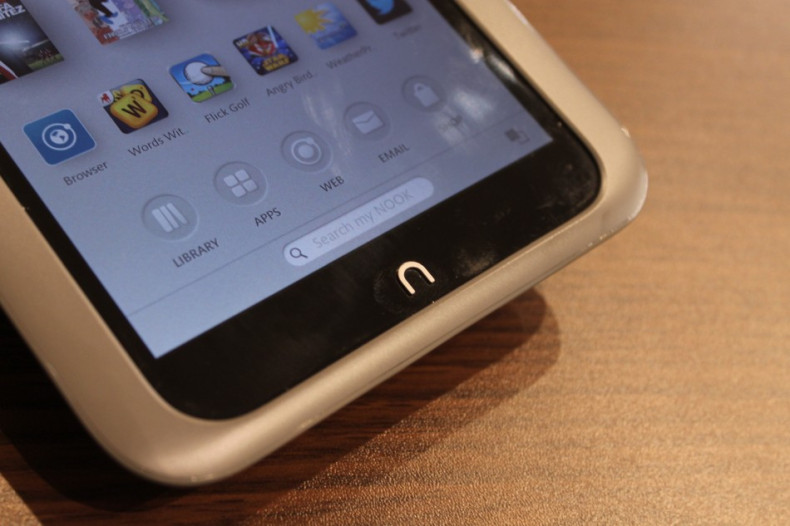 Friendly is the best word I can come up with to describe the Nook HD. From its hardware, to the simple and intuitive operating system and the user accounts - it's all easy, well thought out and welcoming.
Sometimes I look at high-end tablets like the iPad and think 'yes, very good, with your hundreds of thousands of applications, but what are you actually for?'. The Nook HD answers that question by keeping things simple, outlining clearly from the outset what this tablet is for.
There's no spreadsheet creation app and no video editing, just a simple way of getting the content you want. This is the tablet for people who weren't sure if they wanted a tablet, or didn't know what they'd use one for.
The Nook HD answers those doubts, and for £159 Barnes & Noble throws in the best display I've seen on a 7in tablet.
Scores:
The Good:
Comfortable to hold in one hand
Simple, ease-to-use interface
The Bad:
Will not appeal to those who want 'proper' Android
Only 8GB internal storage