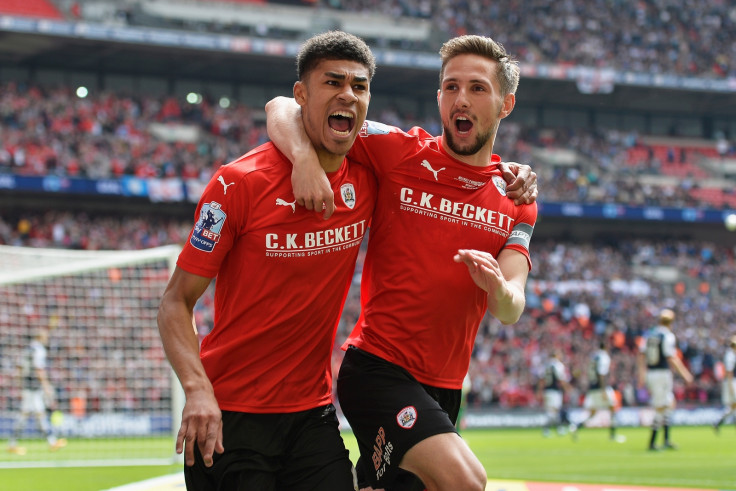 Barnsley are keen on another loan deal for Manchester United striker Ashley Fletcher. The newly-promoted Tykes want to resign the 20-year-old forward next season, after he scored nine goals in 26 games since January, including an all-important goal in their play-off win against Millwall at Wembley Stadium.
Fletcher has previously spoken of his desire to emulate Marcus Rashford at Old Trafford, where the 18-year-old has burst on the scene in 2016. But Barnsley chairman Maurice Watkins has revealed he wants to keep Fletcher next season.
"It would be fantastic to have Ashley with us in the Championship, but we will have to open up our discussions and see where we get to," the ex-Old Trafford director said of the United youngster, according to The Mirror. "I do know the people at Manchester United from my previous associations there – and that could help, you never know!"
Watkins said Fletcher has enjoyed his time at Barnsley and has gained some valuable experience. "Ashley has done very well since he has been with us. He has played well but also enjoyed his football," he said of the United starlet. "He is deceptively fast and knows where the goal is, and his goal at Wembley was a great one when you looked at it closely."
Meanwhile, Fletcher has previously said he hopes his performance in the play-off final will have impressed United's new boss Jose Mourinho. "I hope if Jose [Mourinho] was watching the play-off final it might have given him something to smile about," he said.
"I'd like to think that some of us youngsters might do a job for him but Manchester United is a huge club and have to spend big money to compete for the Premier League title."