Foreign Office minister Baroness Sayeeda Warsi has resigned from the government coalition saying that she "can no longer support the government policy on Gaza".
Warsi, one of the most senior women in the Conservative party, becomes the first UK politician to resign over the government's stance on Israel.
She tweeted upon her resignation as Minister for Faith & Communities:
Warsi, who is Muslim, was previously chairman of the Conservative Party.
Boris Johnson, the Mayor of London, said the news was "very sad" and hoped she return to Government "as soon as possible."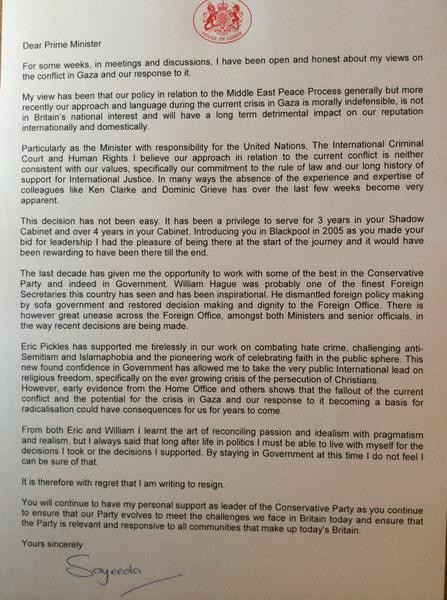 In her resignation letter, Warsi said that the government's approach during the Gaza crisis "is morally indefensible, is not in Britain's national interest and will have a long term detrimental impact on our reputation internationally and domestically".
While praising the former foreign secretary William Hague - "one of the finest Foreign Secretaries this country has seen" - , Warsi stressed that "there is great unease across the Foreign Office...in the way recent decisions are being made".