Labour has seen a dramatic surge in the opinion polls because British voters are "fed up" with Conservative "smear tactics", according to Barry Gardiner.
The shadow international trade secretary also told IBTimes UK that the party has benefited from extra air time thanks to strict broadcast rules around the general election campaign.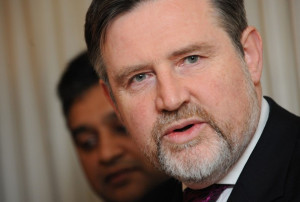 Suggesting reasons why voters had been turned off Labour, Gardiner said: "The public don't like divided parties and we've had two leadership elections in a row.
"And then, of course, there were all of the smear tactics going on from the Conservatives. But people get fed up with that and what we have seen in the campaign is equality of air time.
"What we have seen in this campaign is actually people have been able to see Labour politicians and Jeremy talking about our policies with equal space and they have begun to think 'you know what, I actually like what they are saying – I like these policies.'"
The comments come as the latest YouGov poll, of more than 1,800 people between 30 and 31 May, put Labour on a new high of 39%, ten points higher than the party's rating at the start of the campaign.
The Conservatives, meanwhile, have seen their double-digit lead collapse, with Theresa May facing a backlash over her so called "dementia tax", which would see elderly people in England have to pay for their social care costs if their assets are worth more than £100,000.
The prime minister also refused to take part in a prime-time debate on BBC One on Wednesday (31 May) evening. Instead the Home Secretary Amber Rudd represented the Tories against Labour leader Jeremy Corbyn and five other leaders.
"They are refusing to go out there, they simply want a blank cheque and that is arrogant," Gardiner said.
"We've already endured 10 years of austerity, we've already had every economic policy and every target they said they would meet fail. They failed on the deficit, they failed to get the debt down. The debt has actually increased by more than £750bn [since we left office in 2010]."
But Rudd warned that a vote for anyone other than May is a vote for Corbyn and a "coalition of chaos" between Labour, the SNP and the Liberal Democrats.
"Our government needs to be at its strongest to take us through Brexit. It is only Theresa May that can deliver that leadership," she said.