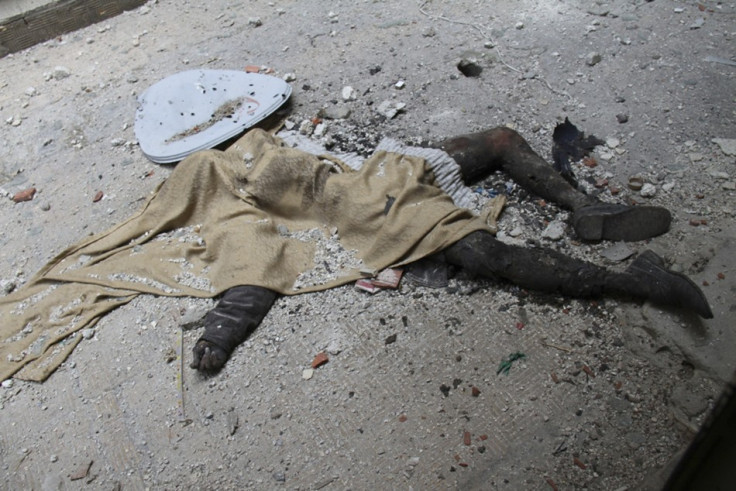 Syria's airforce is deliberately bombarding civilians in direct violation of international law, according to a prominent international rights group.
As William Hague and his fellow G8 foreign ministers prepare to discuss Syria during today's summit in London, Human Rights Watch (HRW) claims President Bashar al-Assad's air crews have carried out 59 unlawful attacks on civilians since war broke out in the country two years ago.
In a new report entitled Death from the Skies, HRW claims thousands of people have died as a result of these attacks, which have been carried out both deliberately and indiscriminately.
The authors assert that government planes have even attacked hospitals in their attempt "to instill fear in the civilian population. In Aleppo, HRW claims Assad's planes attacked the Dar al-Shifa hospital eight times in just four months, meaning it could no longer provide treatment.
The HRW researchers quoted one civilian civilian in the town of Azaz, known only as Ahmed, who said one of the government's attacks killed 12 members of his family.
Ahmed said: "I was about 100 meters away from the house when I saw the airplane and heard the sound of the bombing and destruction. My three brothers lived here. I buried 12 of my family members today, including my father, my mother, and my sister - my brother's wife as well.
"Walid, my brother, was cut into pieces. We didn't recognise him at first. We buried my brothers' children also. The youngest was 40 days old."
In view of the unlawful civilian attacks, HRW is urging the UN to impose sanctions on Syria as a matter of urgency, as well as enforcing an arms embargo and referring Assad's alleged infractions to the international criminal court.
The watchdog has also condemned Russia and China for supporting Assad's government and directly vetoing UN Security Council resolutions against it.
Two years of condemnation
Ever since Syria's civil war erupted in March 2011, reports have suggest Assad and his forces have been targeting non-combatants in a bid to intimidate the rebels who oppose him.
In May last year, at least 50 civilians, including 13 children, were killed when government troops attacked the area of Houla in the province of Homs, using tanks and machine guns.
A month later Assad attempted to block a request from UN observers to visit the town of Haffa, over fears that government troops had purged its population. When observers were finally able to gain access, they found the town deserted and blighted by the "stench of dead bodies."
Then, in July, Assad received condemnation after troops opened fire on civilians in the province of Hama, killing a reported 220 people.