New Batman v Superman: Dawn Of Justice rumours have surfaced teasing a key detail on how the Dark Knight plans to take on the super-powered Man of Steel when the duo engages in battle.
Ever since the film's title and premise were announced, fans have been wondering how the makers will justify a fight scene between the two heroes. Batman, despite all his skills and abilities, is a mere human as compared to Superman who is...well, Superman!
Rumours of Batman's Kryptonite laced armour did come up but the latest update offers a slightly different angle. In the Batman v Superman trailer, Batman can be seen wielding a large, club-like instrument. According to a Heroic Hollywood report, that weapon is a "Kryptonite-laced spear."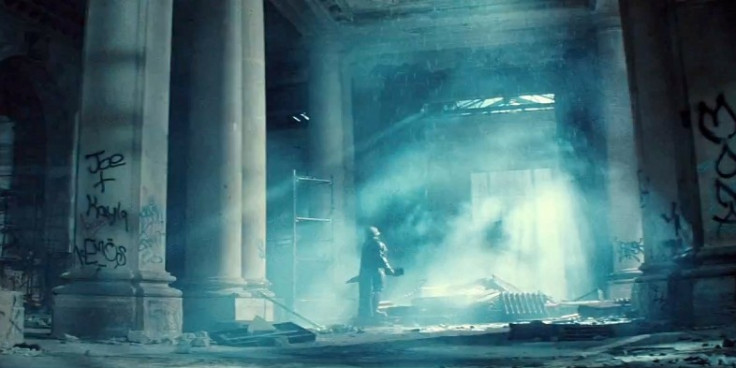 The report does not divulge any more detail with regards to how Batman comes by the Kryptonite, or how he uses it against Superman. Maybe Lex Luthor is instrumental in making sure Batman is well-equipped to take on the Man of Steel.
Meanwhile, Greg Silverman - Warner Bros' president of Creative Development & Worldwide Production recently sat down with The Hollywood Reporter to talk about the studio's upcoming superhero films and how they plan to differentiate DC from Marvel, on the big screen.
"We have a great strategy for the DC films, which is to take these beloved characters and put them in the hands of master filmmakers and make sure they all coordinate with each other. You'll see the difference when you see Batman v Superman, Suicide Squad, Justice League and all the things that we are working on," Silverman said.
When asked to shed some light on the issue fans reportedly had about the Batman V Superman trailer being "too dark," Silverman explained:
"There is intensity and a seriousness of purpose to some of these characters. The filmmakers who are tackling these properties are making great movies about superheroes; they aren't making superhero movies. When you're trying to make a good movie, you tackle interesting philosophies and character development. There's also humor, which is an important part."