A once derelict landmark made famous by Pink Floyd and Batman, London's Battersea Power Station is finally being re-developed after decades of neglect.
Towering over the River Thames, and in walking distance from Big Ben, the huge industrial building is being turned into the centerpiece of a new residential and office development that will include 4,000 homes, shops, tourist attractions as well as Apple's London headquarters.
Architect Sebastien Ricard, working on the renovation, said the new development is "organised around a centrepiece of British history."
The building will be familiar to fans of the band Pink Floyd — it was on the cover of their 1977 album "Animals" with a pink inflatable pig floating above it — and to devotees of "The Dark Knight" Batman film, which used it as a location.
The enormous red-brick power station was designed by Giles Gilbert Scott, the architect behind the familiar British red telephone box and London's Tate Modern museum. The power station supplied electricity to London, but its huge yellowing chimneys stopped pumping smoke in 1983.
Since then, a series of failed development plans turned the building into a rusting ruin — the roof was removed in one aborted scheme, allowing rainwaters to flood inside.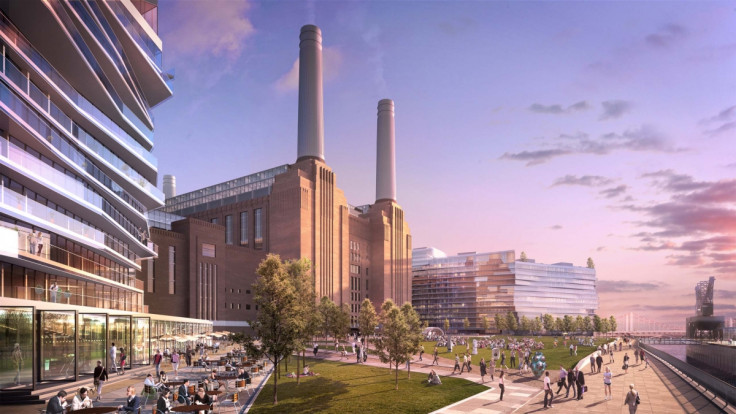 "They held a competition and the winner was going to turn it into a theme park, and this was the first of a number of schemes that failed to really get to grips with the complexities of the building," said Peter Watts, the author of a book on the history of the power station.
Permission for the current development was granted in August 2011. Since then, construction has sped ahead.
This year, the first local restaurants in the new buildings next to the power station have opened, with more due to open this fall. The power station itself is scheduled to open to the public in the next four years.
Construction is transforming the neighbourhood but critics say plans to build 386 affordable housing units are not nearly enough in a city with a chronic housing shortage.
Kathleen Scanlon, a London School of Economics research fellow, says the development is not providing enough housing for people with middle to low incomes.
"I do think that that amount of affordable housing is almost insultingly small," she said. "But on the other hand they have taken enormous financial risk and taken on a project that everyone who looked at it for the past 30 or 40 years said, 'No way, it's too risky.'"