Today marks the anniversary of the start of the Battle of Britain, the German air force's attempt to gain air superiority over the Royal Air Force from July to September 1940, early in World War II.
Their ultimate failure was one of the turning points of the war and prevented Germany from invading Britain.
The Battle of Britain was the first major campaign to be fought entirely by air forces and takes its name from a famous speech delivered by the prime minister Winston Churchill: "The Battle of France is over. I expect that the Battle of Britain is about to begin."
IBTimes UK looks at five famous figures from the battle:
William Walker
Flt Lt William Walker was born in Hampstead, north London, in 1913, and was the oldest surviving pilot from the Battle of Britain until his death at the age of 99 in 2012.
After joining the RAF Volunteer Reserve in September 1938 at Kidlington, Oxford, he was called up for full-time service in September 1939.
He was commissioned and posted directly to 616 Squadron at Leconfield, East Yorkshire in June. On 26 August 1940, he fought a large German bomber force over Kent.
Mr Walker's plane was hit and and he bailed out, landing in the Channel with a bullet in his right ankle. He kept the bullet as a souvenir.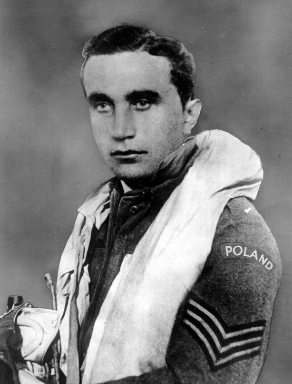 He clung to a shipwreck on the Goodwin Sands before being rescued by a fishing boat and brought ashore at Ramsgate, where he was greeted by a crowd and presented with a packet of cigarettes by an elderly woman.
Josef František
Sergeant František was a Czech fighter pilot who flew for the air forces of Czechoslovakia, Poland and the United Kingdom. He is famous as being the highest-scoring ace in the Battle of Britain.
František joined the Czechoslovak Air Force in 1934. He escaped to Poland during the German occupation in March 1939, where he served the Polish Air Force.
During the German invasion of Poland, František attacked enemy columns until his unit was ordered to withdraw with their remaining aircraft to Romania. František managed to abscond from an internment camp in Romania and reached France via North Africa in October 1939.
František fled to Britain and was assigned to No. 303 Polish Squadron based at RAF Northolt.
During the Battle of Britain, he shot down 17 German aircraft and was awarded the Distinguished Flying Medal.
Eric Lock
Eric Stanley Lock was born in Bayston Hill, near Shrewsbury, in 1920. Trained to fly a Spitfire and commissioned as a pilot officer, he was posted to No. 41 Squadron at the end of May 1940, based in Catterick, North Yorkshire.
He became the RAF's most successful British-born pilot in the Battle of Britain, shooting down 16 German aircraft.
His exploits won a series of medals: The Distinguished Service Order and the Distinguished Flying Cross, which he won twice.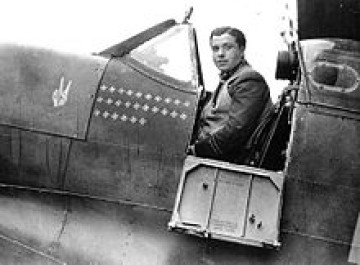 Lock was known as "Sawn Off Lockie" to his friends due to his short stature.
On 3 August 1941, Lock spotted some German soldiers on a road near Calais. He swooped to attack and was never seen again – it is presumed he was brought down by ground fire.
Douglas Bader
Sir Douglas Robert Steuart Bader was a Royal Air Force (RAF) fighter ace during the Second World War. He was credited with 20 aerial victories.
Bader joined the RAF in 1928, and was commissioned in 1930. In December 1931, while attempting some aerobatics, he crashed and lost both his legs.
After the outbreak of the Second World War in 1939, Bader returned to the RAF, where he took part in the Battle of Britain.
In August 1941, Bader bailed out over German-occupied France and was captured and eventually sent to the POW camp at Colditz Castle, where he made several attempts to escape. He remained there until April 1945 when the camp was liberated by the First United States Army.
Bader campaigned for the disabled and in the Queen's Birthday Honours 1976 was appointed a Knight Bachelor for services to disabled people.
Sir Keith Park
Air Chief Marshal Sir Keith Park, born in Thames, New Zealand, commanded the squadrons that defended London and the South East in the summer of 1940.
He was in operational command, helping to win the Battle of Britain and the Battle of Malta. In Germany, he was known as "the Defender of London".
Park took command of No. 11 Group RAF, responsible for the fighter defence of London and southeast England, in April 1940.
He organised fighter patrols over France during the Dunkirk evacuation and in the Battle of Britain his command took the brunt of the Luftwaffe's air attacks.