Best known for its world famous theme parks, this year the city of Orlando has become one of the most important political cities in the US. Located in the heart of the key swing state of Florida, the city and surrounding area have become vital battlegrounds for both Donald Trump and Hillary Clinton.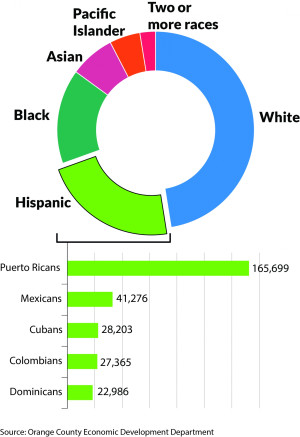 IBTimes UK visited the city to speak with the influential people, groups and organisations that could help decide the result of this fiercely contested election.
Orlando-based political writer and analyst Frank Torres told IBTimes UK: "Both campaigns have determined that if they can get the Orlando area to swing their way, they can get Florida to end up in their column, and possibly win the [presidential] election".
Florida has voted Democrat in the previous two presidential elections in 2008 and 2012. However, it was the only state to be decided by less than 1% in 2012, when Barack Obama defeated Mitt Romney.
Clinton will be hoping to continue this recent trend of Democratic victories in the state, knowing that Floridians have backed successful presidential candidates in nine out of the previous ten elections. However, her bitter rival Trump appears to be extremely popular in the area, winning 66 out of 67 counties during the Republican primaries, defeating Florida based politicians Jeb Bush and Marco Rubio.
Clinton will hope for support from the large minority populations in Orlando, especially from those of Latino and Hispanic descent. In recent years immigration from Puerto Rico and South American countries has meant these communities have grown in political influence in the city and across the state, with over 30% of Orlando's population now from a Latino or Hispanic background (see Chart 1).
Democrats also seems to have favour in the LGBTQ community after calling for tighter gun control in the wake of the Pulse nightclub shooting that left 49 people dead in June. Trump, on the other hand, has gained support from the influential yet controversial National Rifle Association over his policies on gun rights.
Despite her popularity with these groups, Clinton still faces a battle in Orlando. With numerous scandals affecting her campaign, a recent health scare, and the strong support for Trump with disenfranchised voters, victory for the former Secretary of State is far from guaranteed.