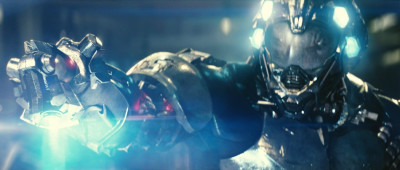 The eagerly anticipated sci-fi film "Battleship", which is also singer Rihanna's Hollywood debut, premiered on 12 April and it promises a whole lot of fun and action.
The film, which cost a reported $200 million to make, is based on the famous and classic naval strategy board game, with the requisite special effects orchestrated by Peter Berg. The film's cast includes, apart from Rihanna, Taylor Kitsch, Alexander Skarsgaard, Liam Neeson, John Tui and Brooklyn Decker.
The film has been described as an "epic action-adventure that unfolds across the seas, in the skies, and over land as our planet fights for the survival against a superior force".
Berg, the director of the film, has admitted he is more than satisfied with Rihanna's acting skills but also confessed it was her attitude that made a lasting impression.
"When I met with her, she came in a T-shirt and jeans, no makeup, very natural," Berg said, adding, "She was like, 'Look, I want to be an actress. Don't kiss my ass. Don't lie to me. Push me. Treat me as you would any other actor. Help make me good.' She is really, really good in 'Battleship,'" he said to MTV news.
Meanwhile, the singer, who is in Australia to promote the film, made it clear she was unwilling to discuss anything other than that topic. The media were reportedly given stringent instructions not to ask anything beyond her role during the interview.
So... when she was asked about her personal life, the singer was understandably disappointed and expressed that very clearly.
"How frustrating is it when you're linked to another Hollywood star, even if you've barely met them?" she was asked.
"Very frustrating. Almost as frustrating as being asked about it," Rihanna replied, "I mean, what's the point."
When she was told people were interested in her life as a high-profile star, the "Talk that Talk" singer fired back: "They are interested in a lot of things. A lot of things that don't matter or shouldn't."
That was not the last of the off-topic questions.
A question from a reporter for the Sydney Confidential was left unanswered. The reporter was looking for confirmation she would be joined by controversial ex-boyfriend Chris Brown at Brisbane's Supafest concert.
"You're asking too many questions" she told the reporter before storming off.
Meanwhile go through the slideshow to see the first action images from 'Battleship'