Bear Grylls has built a giant slide that goes from his island home in north Wales into the sea prompting an investigation by his local council after he tweeted a photo of it online.
The survival expert, who splits his time between the island and his London home, said the slide was "very fast".
"New slide attached at home on our island. You hit the water very fast," he wrote alongside the photo, which has been removed.
The photo shows the metal slide attached to the cliff on St Tudwal's Island West, which is off the coast of Abersoch in north Wales.
Gwynedd council has launched an investigation into the slide because of safety concerns and planning problems.
"Officers from the council's Planning Service are investigating this case and will be discussing the matter with the site owner," a spokesman said.
Wyn Williams, who represents Abersoch on Gwynedd Council, added: 'I have been told that the slide can only be used a couple of hours a day due to the tide and that it will only be in place when Mr Grylls is on the island.
"However, I don't believe you should be allowed to erect a slide in an area of outstanding natural beauty such as St Tudwal's Island before going through correct procedures.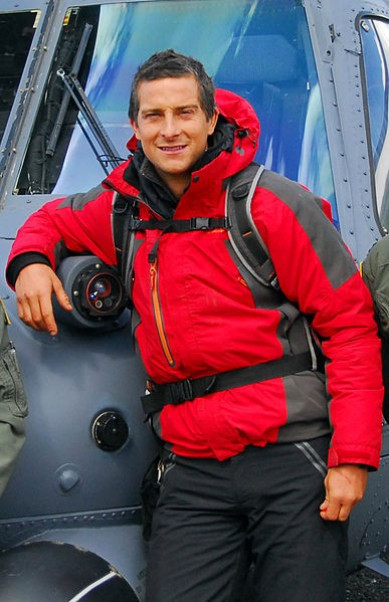 "I am very concerned that an accident could happen on this slide, since there have been no discussions with planning or the health and safety department of Gwynedd Council."
Grylls bought the island for £95,000 in 2001. It is around half a mile from the coast and measures 700m by 200m.
In July, he submitted a planning application to the council to build a new harbour to provide safer access.
He told the Daily Telegraph when he decided to buy the island: "I thought a million people would ring up about it, but we still called and asked to view it. The chap gave me the number of the fisherman who would give us a lift. When I asked about keys for the 125-year-old derelict stone cottage, he laughed and said: 'Just take a crowbar, you'll need to break in.' We did begin to wonder."
The island was originally priced at £150,000 but the adventurer got it for much less. "I'd written an audacious letter to the chap offering him £95,000 - take it or leave it - and was in the bath on our houseboat when he rang to say he'd accept.
"I'd always dreamed of owning an island."