Homeless people are the stars of a new photo collection designed by a Spanish NGO to highlight the "invisible reality" of those forced to live on the streets.
Manel, Paco, Valerio, El Salvador and Esteban are among those who have lived on the streets of Barcelona and lent their faces to the Homeless Commons campaign, hoping to challenge prejudices towards homeless people and show there is more to them then what we typically see in images of the homeless.
The Arrels Foundation is based in Barcelona, where there are more than 1,000 people are homeless. The NGO has launched the Homeless Commons collection of images featuring people who have lived on the streets, in the hope no-one else will have to do the same.
They said: "Using one of these images not only brings attention to an invisible reality, but also lends helping hand to the 1,900 homeless people we assist each year. Above all, you will be helping to challenge prejudices and assisting in making our goal, #nobodysleepingonthestreet, possible."
People are asked to pay an open donation for one photo, €22 (£19.50) for a themed series of between 40 and 54 photos, or the complete collection of 136 images for €50 (£44.32). The middle bundle will fund a night's lodging and social attention for one person, and the complete set could pay for food for one person for 10 days.
In the future, Arrels wants to create a Homeless Commons hallmark, inspired by Creative Commons, to provide free photos, fonts and other artists' contributions to go towards their goal.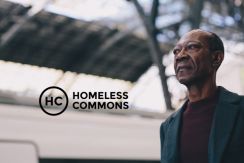 El Salvador, who spent five years on the streets, said: "I pass by mirrors quickly. My heart and my feelings mean more than what a mirror says because – in the end – the mirror will break, but your heart never goes away."
And another of the participants said: "What appearance does is that it deceives others... an old man said to me: 'If you're well dressed, even if your wallet is empty, all doors will be open to you.'"
Three years ago, Arrels launched the Homeless Fonts campaign after teaming up with a Spanish advertising agency to create typefaces based on the handwriting of homeless people. Samples of handwriting was photographed from the cardboard signs traditionally held up by the homeless on the street. They were then cleaned up in a studio and then transformed into commercially available fonts to fund the work of Arrels helping homeless people on their way to independence.