Beijing admits having vessels around disputed reef in South China Sea but denies reclamation
China and the Philippines agree on building a code of conduct for all the South China Sea claimants.
The Chinese embassy in Manila, the capital of the Philippines, admitted on Wednesday (7 September) that the country had stationed several of its patrol ships and fishing boats in the waters around the disputed Scarborough Shoal in the South China Sea, but insisted that they had not undertaken any dredging or construction activities there.
"The Chinese side has maintained the presence of a number of coast guard vessels for law enforcement patrols. There are also some Chinese fishing boats around that area," the embassy said, adding: "The situation has not changed. There are no dredging or building activities there."
The confirmation came soon after the Philippines accused China of illegal construction of an island in the disputed reef that China acquired in 2012. On the orders of Filipino defence minister Delfin Lorenzana, 10 images were released on Wednesday reportedly showing Chinese vessels around the disputed Scarborough Shoal, called Huangyan Dao in Mandarin. The pictures were released at a time when the Chinese Prime Minister Li Keqiang and the Philippine President Rodrigo Duterte were in Laos to attend the ASEAN summit.
Manila expressed "grave concerns" about the presence of more than usual Chinese vessels, including dredging barges, in the disputed waters. Terming the situation as "very worrisome", Lorenzana reportedly said: "That area is ours. Once they seize an island, we can no longer recover it."
However, Chinese foreign ministry spokeswoman Hua Chunying said in Beijing that the country had done nothing to change the circumstances around the shoal. "What I can tell you is that the situation in waters near Huangyan Island remains unchanged and China hasn't made any new moves," Hua was quoted as saying by The Philippines Star.
Hua added: "We should be highly alert against the mischief-making intentions of people who spread such groundless information in such situations."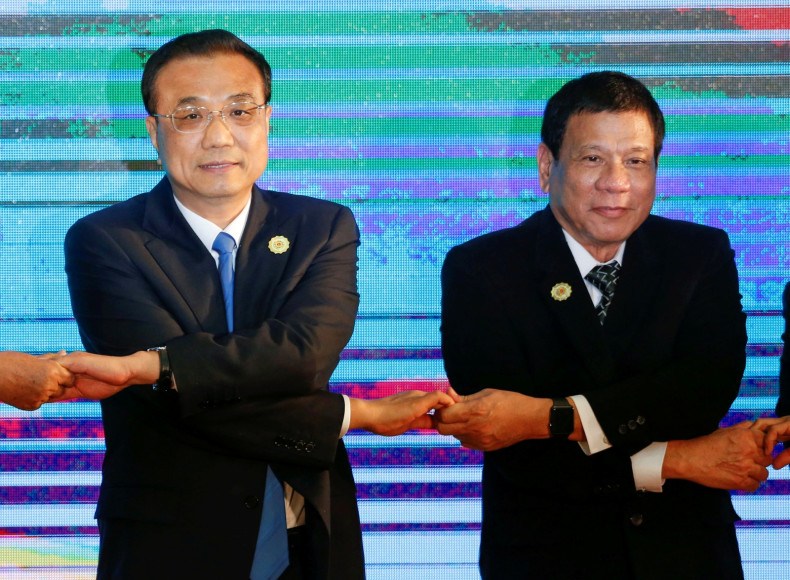 Meanwhile, both the disputing countries agree that they need to build a framework for a code of conduct for all the claimants in the South China Sea and to peacefully resolve the years' long territorial disputes, the paper reported. The dispute was a major topic of discussion during the ASEAN summit.
"China was vigorously asking to begin with the Code of Conduct as well as Singapore, and our president of the Philippines – President Duterte – also expressed his approval of having this framework of Code of Conduct initiated," Filipino presidential communications secretary Martin Andanar said during a press briefing on Wednesday.
"The trend to resolve differences will be good, there is now positive direction in our relations, and the (code of) conduct in the South China Sea should happen next year after the framework of the Code of Conduct has been dealt with by the ASEAN region," he reportedly added.