An alleged rise in the number of Chinese vessels near the disputed Scarborough Shoal in the South China Sea has flared up tensions in the Philippines, which strongly disputes China's claims over the waters. The Filipino defence secretary on Sunday, 4 September, demanded an explanation from China's ambassador to the country over the increased presence of Chinese boats in the area.
Delfin Lorenzana told reporters through text messages that on Saturday (3 September), a Philippines air force plane flew over the disputed shoal, acquired by Beijing in 2012, and spotted more Chinese boats than usual.
"There were four Chinese coastguard ships and six other vessels, including blue-coloured barges, around Scarborough Shoal. The presence of many ships other than coastguard in the area is a cause of grave concern," Reuters quoted Lorenzana as saying. He added that China has previously used barges to dredge sand for the seven man-made islands it had created in the disputed Spratly Island.
Lorenzana said they were not sure why China is sending barges near the shoal. Earlier this year too, Beijing had tried to send barges there but no signs of dredging have been spotted so far, he said. "We don't know yet if those barges are precursors of future dredging operations," the official added.
"If they try to construct anything in Scarborough it will have far-reaching adverse effect on the security situation," the defence secretary asserted.
The shoal, merely a rocky outcrop in the sea, is important to the Philippines because of the rich stocks of fish in those waters. Manila has maintained that Beijing's control over the shoal is a violation of international law.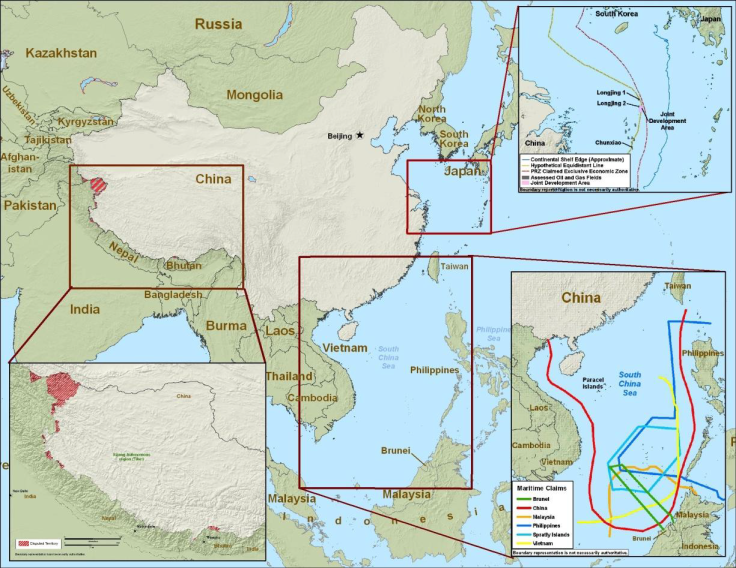 The Philippines is also upset with China's defiance of the recent international arbitrary court ruling on the sovereignty and maritime rights over the South China Sea. However, Philippines President Rodrigo Duterte wants the issue resolved through peaceful talks. Although the two nations have agreed to talks, they have not yet given a time frame.
During an informal chat with Chinese President Xi Jinping, US President Barack Obama also urged the Asian nation to abide by international regulations with regard to maritime rights over the South China Sea. However, Jinping maintained that Beijing would continue to safeguard its maritime interests in the disputed waters.