In continued efforts to fight air pollution, Beijing raised its smog alert to orange, the second-highest level in the four-colour warning system, on Christmas. Children and people with respiratory issues were urged to avoid prolonged outdoor exposure.
The concentration of PM2.5, the fine particles that pose the greatest health risks, was measured at 503 micrograms per cubic metre in the central city at 2pm, according to the Beijing Municipal Environmental Protection Bureau.
"Active children and adults, and people with respiratory disease, such as asthma, should avoid all outdoor exertion; everyone else, especially children, should limit outdoor exertion," the monitoring authority warned.
Poor visibility due to smog affected air travel as well. Over 200 flights from Beijing airport were reportedly cancelled on Christmas.
Since the start of December, thick smog enveloping Beijing has prompted several warnings, including the highest red alerts. More than 22 million people across Beijing have been warned to stay indoors.
Yellow alert
On the morning of Christmas, Beijing's air pollution emergency office also issued yellow warning for heavy air pollution. All construction work across the city was stopped to control dust that adds to the health risks associated with smog. Authorities also stressed on strengthening road sweeping and cleaning works.
"Currently, the city and northern areas are affected by the weak pressure control, low wind speed, humidity, and pollutant dispersion conditions are poor," the bureau said in its alert, adding that the pollution was "severe". It termed the air quality level as "heavily polluted". According to forecasts, air quality was expected to improve with cold air by the afternoon of Saturday (26 December).
Pollution lower but 'unhealthy'
The US Embassy in Beijing's air quality monitor located in Chaoyang district reported a drop in the concentration of PM2.5 to 102 micrograms per cubic metre at 3pm on 26 December. Data from the monitor, which is a resource for the health of the American community in Beijing, suggests the pollution level in the city is still "unhealthy".
12-26-2015 15:00; PM2.5; 102.0; 175; Unhealthy (at 24-hour exposure at this level)

— BeijingAir (@BeijingAir) December 26, 2015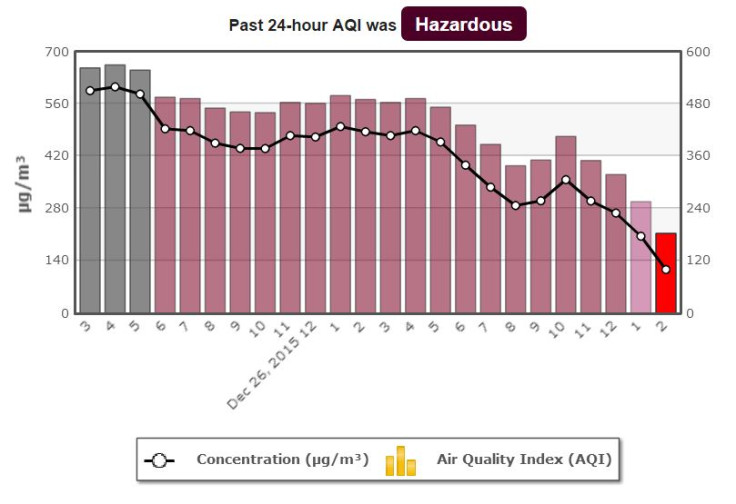 The concentration of particulate matter in the air can cause "increased" aggravation of heart or lung disease and premature mortality in persons with cardiopulmonary disease and the elderly. It can also cause respiratory problems in others.