China warns heavy smog will blanket Beijing skies, issues second 'red alert'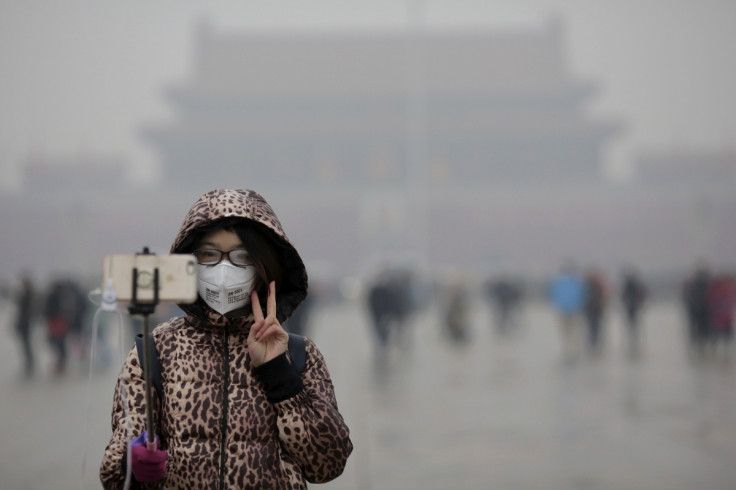 Chinese authorities have issued a second smog alert for Beijing as polluted air is expected to blanket most parts of the capital. This is the second "red alert" the Chinese capital has been issued within a span of 10 days.
Beginning from Saturday (19 December), the crisis measures over the highest pollution warning are expected to last for four days. According to China's National Meteorological Centre, a massive area from central China's Xian to Harbin, which is in the north-east, is to be affected by hazardous smog. The capital's 22 million inhabitants will be caught in the middle of a huge area as the smog is likely to spread to 11 other major cities.
As large parts of the country braces to face a fresh wave of highly polluted air, schools have been asked to shut and residents have been urged to stay indoors. Beijing lifted the earlier warning on 10 December after northern winds helped dispersing the choking smog in the region. In the four-coloured warning system, the "red alert" is the highest level.
Akin to emergency measures taken under the first warning, this time as well, factories are likely to be temporarily closed and more than half of Beijing's five million cars will be taken off the roads. Construction sites are to stop operations as visibility in most areas will be minimal.
Authorities have additionally warned that the smog this time around would be much worse than earlier ones – with the PM2.5 pollution level expected to clock 500 micrograms per cubic metre. During the earlier period between 8 and 10 December, the pollution index was about to touch 300 at its peak.
Residents are usually advised to remain indoors if the level crosses 300 and according to the World Health Organization 25 micrograms per cubic metre is the maximum safe level for humans. China, the world's biggest carbon-emitter, has been gripped by alarming pollution levels, which are now threatening the citizens' health and the communist government's credibility.
Authorities have repeatedly promised to crack down on industries and polluters pledging to penalise them heavily.
© Copyright IBTimes 2023. All rights reserved.