Barack Obama welcomed the Dalai Lama to a private meeting at the White House on 15 June, the fourth Washington meeting the US president has had with the Buddhist spiritual leader. China, however, has expressed its objections to foreign leaders hosting the exiled Tibetan figure and pointed out that he is considered an "anti-China separatist".
China's official news agency Xinhua aired a commentary accusing Washington of breaking its promise not to support Tibet's independence by meeting with the religious and political head. It said this had "seriously jeopardized China-US relations, and deeply hurt the Chinese people's feelings."
The Chinese Foreign Ministry said it had made "solemn representations" to the US Embassy in Beijing and expressed its "firm opposition."
"We need to emphasise that the Tibetan issue is China's internal affairs and other countries do not have any right to interfere with this," spokesman Lu Kang said at a press event.
"The 14th Dalai Lama is not simply a religious figure but a political figure in exile who has been conducting secessionist activities internationally under the pretext of religion," the statement said. "If President Obama meets with Dalai Lama, it will send the wrong signal to Tibetan separatist forces, and it will undermine the mutual trust and cooperation between China and the US."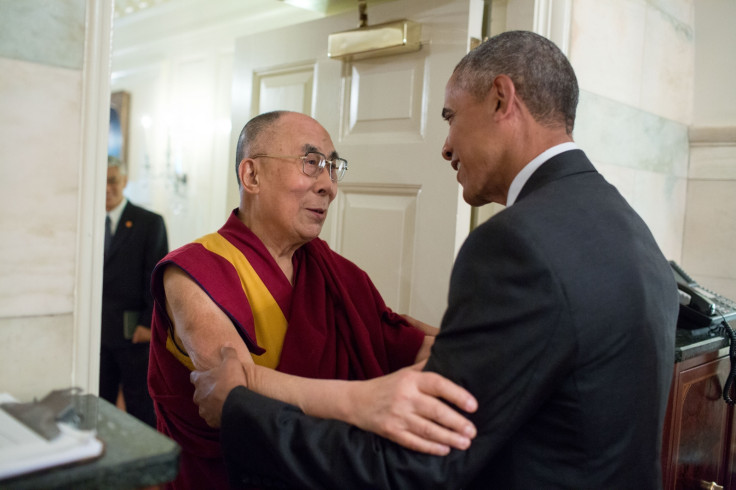 White House Press Secretary Josh Earnest clarified that the Monday meeting had in no way affected the policies the US has with China.
"Tibet, per US policy, is considered part of the People's Republic of China, and the United States has not articulated our support for Tibetan independence,'' he said.
"Both the Dalai Lama and President Obama value the importance of a constructive and productive relationship between the United States and China.
"All of those were policy positions of the United States before the meeting occurred. Our policy hasn't changed after the meeting.''
The Dalai Lama offered Obama his condolences following the terror attack in Orlando, which resulted in 49 deaths, and led a minute of silent prayer for the shooting victims during a visit at the US Institute of Peace in Washington.
"The president thanked the Dalai Lama for his expression of condolences about the terrorist attack in Orlando over the weekend," Earnest said.
The White House has stressed that the meeting was more of a personal conversation during which the two leaders discussed human rights and climate change.