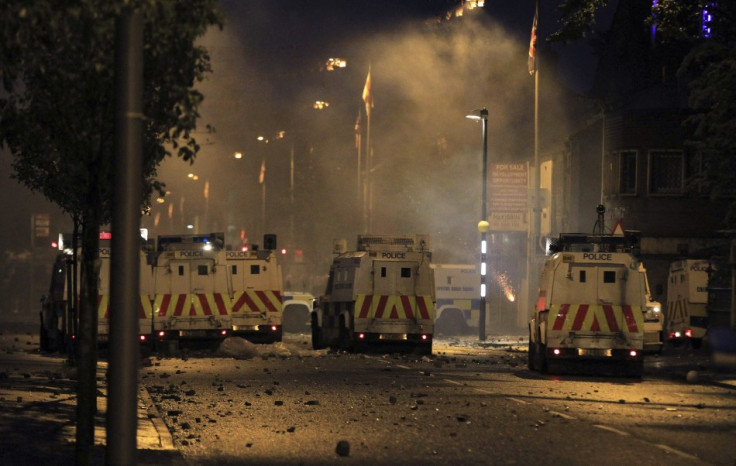 Violence has once again broken out in Belfast as Protestant's begin their 12th July Orange Order protests. It has been reported by the BBC that seven police officers were hurt in clashes in west Belfast and has again highlighted the rising tensions in the city. The trouble erupted when Protestants began lighting bonfires in the city - the signal for the start of the Orange Order demonstrations.
It has been reported that nationalists threw petrol bombs and masonry at riot police during a night of serious disruption in Belfast. The police responded by firing plastic bullets at some 200 hooded youths, as well as water cannons to try and disburse the crowds. There were reports that gunfire was heard across Belfast but there have been no reports of injuries attributed to gunshot wounds overnight.
According to reports from the BBC, Sinn Fein MLA Jennifer McCann was in the Broadway area of west Belfast for a number of hours last night and claims that the rioters and youths were not from the area. She told the BBC: 'Mostly what I saw was people who came from other parts of Belfast, who would be known as anti-social elements, who had taken a lot of drink and were attacking the police.' She continued: 'The only people that they were causing havoc to, apart from the PSNI, last night, were local residents.'
Last night, SDLP Councillor Colin Keenan told the Belfast Telegraph people were arriving in cars intent on causing trouble and the atmosphere was tense. He said: 'I am on the ground with colleagues trying to keep things calm. We are witnessing disgraceful scenes and people keep arriving.'
'There are boys and men concealing their identity by pulling hoodies up and by putting scarves across their faces. You don't do that if you are just out for a peaceful night out.'
The 12th July Orange Order demonstrations take place at around 18 venues across Northern Ireland commemorating Prince William of Orange's 1690 Battle of Boyne victory over Catholic King James II. It is expected that over 60,000 Orangemen will parade at up to 18 venues across Northern Ireland with most of the demonstrations expecting to pass off peacefully although a major security operation is in place across North Belfast.
The 1998 'Good Friday' peace accords largely ended the cycle of sectarian bombing and shootings in the province. The agreement paved a way for a National Irish Assembly based at Stormont. Last night's trouble was sparked by Protestant's lighting bonfires across the city - the signal for the start of the 12th July Orange Order demonstrations.