At least 10 police officers have been injured in violent clashes in Belfast after a route through a Republican area was blocked to Loyalist marchers celebrating the 12th of July - the most important event in the Loyalist calendar.
Police were enforcing a Parades Commission marching ban past the Republican Ardoyne. Some of the 3,000 marchers hurled missiles at police, one of whom was seriously injured and had to be dragged away by colleagues. Police responded with water cannon and threatened to use baton rounds if crowds did not disperse.
At one point a 15-year-old girl was trapped underneath a car which had to be lifted off by locals and officers. Republicans claim a hijacked car was deliberately driven into the crowd protesting against the march.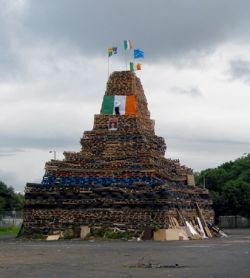 A Police Service of Northern Ireland spokeswoman said: "Police immediately responded and administered first aid and the driver of the vehicle has been arrested."
Local Sinn Fein Assembly member Gerry Kelly said he had spoken to the girl's family and her injuries weren't life-threatening.
A spokesman for the Orange Order condemned the violence, saying: "Those involved in violence should desist. It is not only counterproductive but also plain wrong. Such actions are only strengthening the hand of those who wish to further curtail our parades."
The 12th of July - to many Loyalists simply The Twelfth - celebrates the victory by William of Orange over King James II at the Battle of the Boyne in 1690. A key date in the Loyalist calendar, the Twelfth continues to be celebrated across the Province, with marches and the building of huge bonfires.
However this year, the 325th anniversary of the battle, there are signs that many people are becoming tired of an event which sometimes leads to violence amid concerns it is harming Belfast's image.
Photographs on social media showed "Guys" with the faces of Gerry Adams and Martin McGuinness of Sinn Fein, along with what appeared to be an Isis flag - though it is unclear what the flag was meant to symbolise.
One Tweet directed at Loyalists said: "You enjoy practicing hatred by burning flags and effigies? Says a lot about you doesn't it?"
However a Loyalist responded: "Seriously. It was a piece of card with a pic on it. No one got hurt!!"