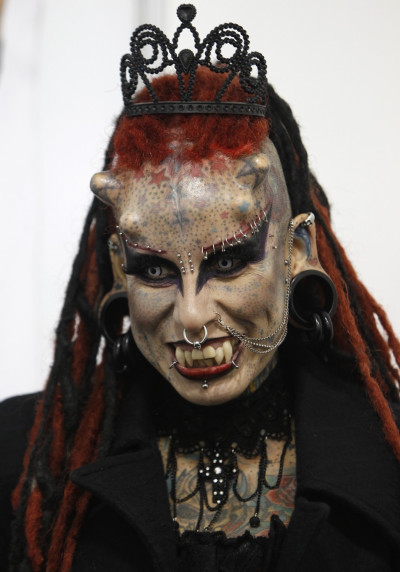 A Belgian girl who lied about falling asleep while being tattooed with 56 stars on her face is trying to "wipe" out the mistake. Kimberley Vlaeminck regrets the whole bizarre event as the marks how little signs of fading, even after three years.
Last summer the 21 year old decided to under laser surgery worth £9,000 in a bid to have the designs removed by September, the Daily Mail reported.
The tattooing itself seems to have taken place in 2009, when Vlaeminck insisted she asked for just three stars and blamed the Flemish-speaking tattooist, Rouslan Toumaniantz, for not being able to understand her French and English instructions. She also claimed she just woke up in pain while her nose was being tattooed.
Her claim has received international attention, with even American comedian Whoopi Goldberg jokingly saying Vlaeminck must have been "high" to sleep through a tattoo session.
Meanwhile, amid other accusations, Vlaeminck said she would sue the tattoo artist for the cost of the laser surgery. However, she later confessed to a Dutch television station that she did not fall asleep and indeed asked the tattooist for the 56 stars. She said she was "fully aware" of what Toumaniantz was doing but lied because she was afraid of how her father would react.
Toumaniantz, who himself is covered from head to toe in tattoos and piercings, had consistently denied he had made a mistake and always insisted Vlaeminck wanted all 56 stars. Nevertheless, he did initially agree to pay for half of the treatment to remove the tattoos but later withdrew his cash offer. Since then, he gets written consent from clients before he begins tattooing.
As far as Vlaeminck is concerned, although the treatment has proven to be effective in getting rid of the tattoos, even the most advanced technology would leave white marks across her face.
This sobering lesson should be one for anyone interested in getting a permanent tattoo - it is a decision that must be taken with every possible thought and care, lest we end up in a similar situation.
A 2006 survey showed that 36 percent of Americans between the age of 16 and 25 have at least one tattoo. Body tattoos are a statement that could define your identity. Therefore it is important to think carefully before deciding to get a tattoo.
Checkout some oddly body tattoos around the world...