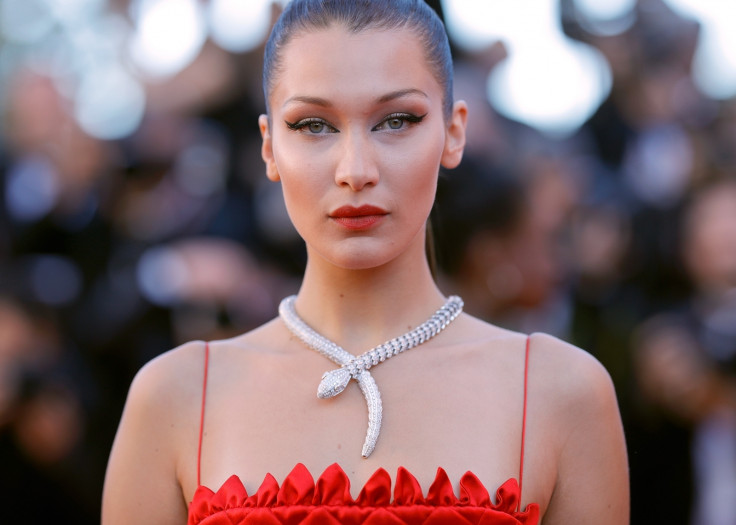 Supermodel Bella Hadid is usually dressed up to the nines when she struts down the runway. However, the Victoria's Secret star stripped back all the glamour to go make-up free on Instagram and fans can not get enough of her effortless look, hailing the model a "natural beauty".
In the selfie shared with her 14.5 million Instagram followers on 24 August, Hadid, 20, appears to have just stepped out of the shower wearing a towel around her hair and body, staring straight ahead at the camera. Evidently in a meditative mood, the catwalk star simply captioned the image: "Silence" along with the prayer, massage and heart eyes emojis.
Hailing Hadid a "natural beauty", fans were bowled over by her flawless bare-faced look and promptly bombarded the Vogue cover girl with compliments. One fan gushed: "This is her without make up? Damn. I love her. Verified."
Another follower wondered in awe: "How can a human be this stunning?"
One other fan chimed in: "Yes people let's take a moment of silence and appreciate how gorgeous Bella looks with or without makeup."
Other flattering remarks included: "AMAZING EVEN WITH N0 MAKEUP," "Can someone leak her skin care because OML," and "I want to look like this every morning."
Those desperate to know Hadid's make-up and skin routine are in luck as the Dior ambassador has already shared details of her regime. In an April interview with Hello magazine, Hadid revealed: "Make-up has always been super-sensual to me... Always bringing out the cheekbones, around the eyes and a good brow – that's always what I looked up to."
Crediting her mother Yolanda Foster and model sister Gigi Hadid for their tips, Hadid continued: "We've always kept it really simple – My mum always taught me more about the skin. My sister is all about contouring and my mum would always have such beautiful lashes. We're all kind of teaching each other.
"I always love to wash my face and put on a good moisturiser. My face is so dry, especially in New York. And I love the Dior Hydra Life Fresh Jelly Mask."
The modest make-up free selfie contrasts photos from a recent shoot which Hadid shared on Instagram earlier in August. In one, the fashion muse poses topless wearing only a pair of jeans in a spread for V magazine.