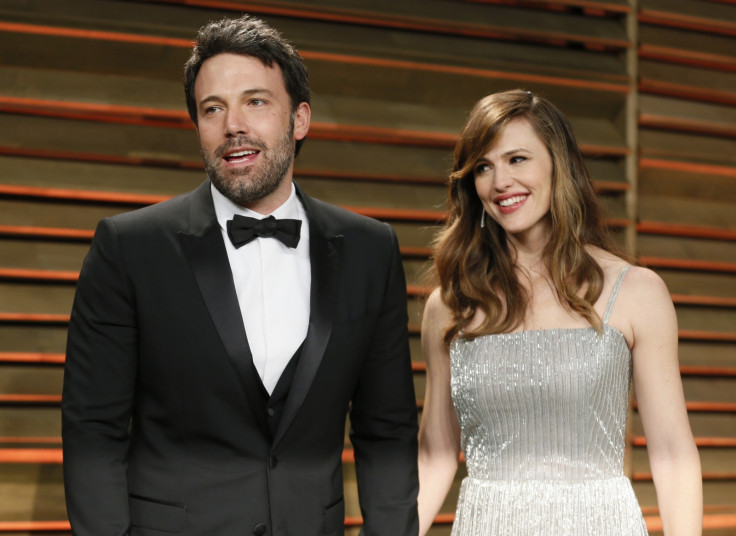 There is nothing that is more important to Ben Affleck than his children. The Batman v Superman: Dawn of Justice actor was in New York promoting his upcoming movie The Accountant, when the actor and his wife Jennifer Garner were spotted taking their children to school in Los Angeles on Monday (10 October).
According to The Daily Mail, after dropping their children at school, the 44-year-old actor and his estranged wife Jennifer Garner were spotted walking back towards their home in Brentwood, California. The former couple seemed happy the two chatted while walking next close to each other.
The Daredevil actress was dressed in a white t-shirt, grey jacket, which she paired with navy blue jeans and white sneakers, while Affleck sported a black leather jacket, olive green t-shirt, dark jeans and grey sneakers.
While promoting his new movie The Accountant in Los Angeles before he travelled to New York, Affleck had said that he has felt "vulnerable" ever since he became a father. He said has been scared for his children's safety since he and the Miracles From Heaven actress welcomed their children.
"When you have kids, what's that expression, 'Your heart is outside your body.' All of the sudden you feel so vulnerable and this fear of a child being vulnerable is very, very powerful," Affleck had said. (Via The DailyMail)
"I face dilemmas that we all do everyday about what's the right way to raise children, what's the right thing to teach them? Every moment there comes a crossroad," he said.
The former couple separated in June 2015 but neither has filed for divorce. Moreover, the two continue to live together and are often spotted together, sometimes with and without their children - daughters Violet, 10, and Seraphina, seven, and four-year-old son Samuel.